Driver kills boy's dog and dreams of service dog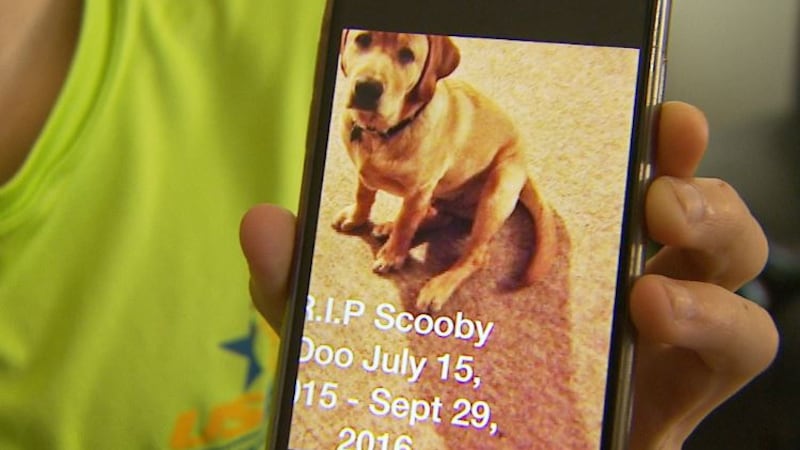 Published: Sep. 30, 2016 at 4:06 PM AKDT
The Andersons' dog, Scooby Doo, wasn't a mystery solving Great Dane like the cartoon character but he still had an important job. He was 12 year old JJ Anderson's ears when he couldn't hear and first responder for seizures.
"When [JJ] had his last seizure, for instance, he jumped on him and brought him out of the seizure," says JJ's grandmother Valerie Anderson.
Anderson says Scooby Doo had natural instincts to help JJ but hadn't been formally trained as a service dog. That was something the family had hoped would happen soon.
"They have to be a certain age before you train them and we just hadn't gotten him that point yet and yeah unfortunately we didn't make it to that point," says Anderson.
While on his routine walk with JJ on Thursday, Scooby Doo was killed by a driver in a black truck on Boniface Parkway. The driver struck Scooby, dragged him and then drove away.
Anchorage Police say there's an open case because it is illegal to hit an animal and leave the scene. It's a minor offense that carries a possible fine of up to $500.
The family says while they can't understand how someone could do something so horrible they're grateful JJ wasn't hurt. They're also thankful for the kindhearted people who stopped to make sure JJ was okay and call police.
"There are good people and you know I give them my biggest thanks and sincere gratitude for stopping to help him," says Anderson.
The family hopes to get a service dog for JJ someday.
JJ was the only witness to the crime. He describes the vehicle as a black truck.