Endangered Frontier: When Alaska Glaciers Disappear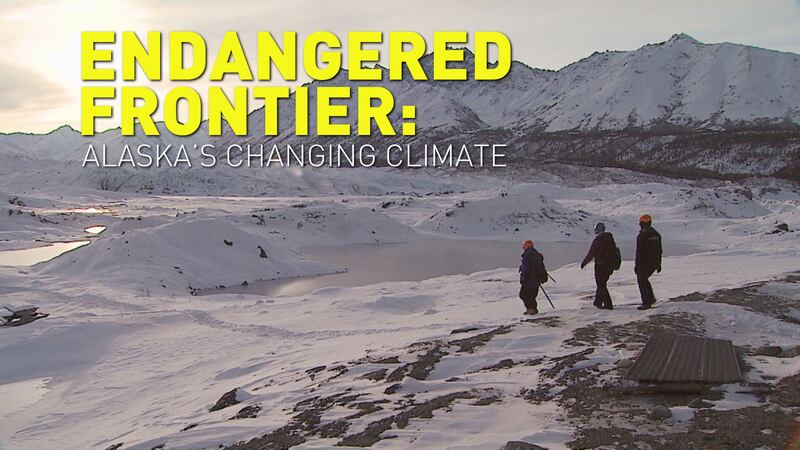 Published: Oct. 22, 2019 at 3:20 PM AKDT
Part 3 in our series on climate change
Alaska's glaciers are losing ice as the world warms.
This is a big problem because glacier-fed ecosystems are a delicate balance. As glaciers shrink it impacts water temperature, which then also impacts marine life such as salmon that spawn in meltwater streams.
"Alaska is losing ice faster than any other glacierized region on earth, outside the ice sheets, and we're losing ice disproportionately faster here in Alaska," glaciologist Dr. Shad O'Neel said.
Glaciers in Alaska are losing about 75 billion tons of ice each year.
The world's roughly 150,000 glaciers, not including the large ice sheets of Greenland and Antarctica, cover about 200,000 square miles of the earth's surface.
"The changes we're seeing right now are accelerating," glaciologist Emily Baker said about Alaska's glaciers.
On the largest glacier in North America, accessible by road, Matanuska Glacier stands as a beacon of hope. It is also getting smaller, but at a slower rate than many other glaciers in the state. Because of the high snowfall in this area it is considered a "well feed" glacier, which means it is able to store up new snowfall during the winter.
But in a warming climate melting outstrips accumulation, resulting in a net loss of ice.
"The glacier's been receding since the 60s, late 60s. In the late 60s the glacial ice was up by the parking lot and around 1968 it started retreating to its location today. That's about 10 meters of retreat each year. So that's about 32 feet each year," glaciologist Sarah Kopczynski who earned her PhD on the glacier said on a recent sun-drenched day on the glacier.
Kopczynski spends most of her days on the glacier, showing hikers the ever changing landscape. She proudly points to portions of the glacier, showing off its sun scallops, lakes and crevasses.
"It's a beautiful peach color today," Kopczynski said while the sun began its ascent just past 10 a.m.
"When we start the morning tour, it's always a beautiful peach color, and by the time we come back, the sun will have moved over a little bit and you'll be getting more direct sunlight on the front of the glacier," Kopczynski said.
Most Alaskans are proud of the state's glaciers, which are often featured prominently on Instagram accounts or family Christmas cards. Talk with someone who's lived here for at least one generation and they'll pull out a photo of Exit or Portage glaciers, which have now receded dramatically into the distance.
Alaska's glaciers will lose between 30 and 50% of their mass by the end of this century, according to a report by the U.S. Geological Survey from 2016.
Glaciologist Sarah Kopczynski points out areas of the Matanuska Glacier that have receded. She earned her PhD studying the glacier. She also gives tours of the glacier for for fun.
Scientists like Baker and O'Neel have been monitoring Wolverine Glacier in the Kenai Mountains for several years to study how these changes will impact the state. USGS video of Wolverine, shot between 2012 and 2019, shows dramatic, sustained, mass loss.
"If you could take the volume of ice lost during the time frame of this video back to Anchorage, it would cover the full Delaney Park Strip in downtown Anchorage with ice over 4,000 feet thick. That's a tower of ice over 3/4 of a mile tall. And all that melt is just from just one medium-sized glacier of the approximately 20,000 glaciers in the region. The changes we're seeing right now are pretty sobering," Baker wrote in an email.
Additionally U.S. Geological Survey estimates that Alaska's glaciers and ice fields are responsible for nearly 50% of the water that flows into the Gulf of Alaska.
"We're supposed to be entering another glacial period so the fact that we are actually warming is somewhat more astounding," Baker said.
O'Neel says when he returns to Wolverine he's surprised by the changes.
"Every time I go out to work on the glacier, the changes are faster than I would have anticipated," O'Neel said.
A tour group walks along the Matanuska Glacier. Each year, the glacier recedes a little bit farther away from the Glenn Highway, from which people access the glacier. It's one of thousands of glaciers in North America that are shrinking as the world warms.