Endangered Frontier: Nation's first community to relocate due to warming faces complicated emotions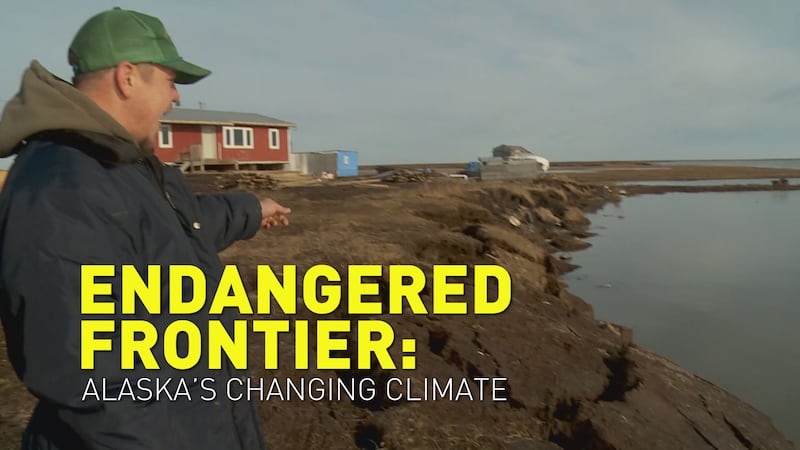 Published: Oct. 24, 2019 at 1:31 PM AKDT
In November, 1996, the small Southwest Alaska village of Newtok voted unanimously to relocate their town as a result of intense erosion.
23 years later, the Yup'ik people who call Newtok home are in the process of becoming the first Americans forced to relocate their entire community as a result of climate change.
"Is our climate changing? Yes," said Andrew John, Newtok Tribal Administrator. "Without a shred of doubt, our climate is changing. There's a lot of anxiety with it, there's a lot of fear that comes with it."
The problem of riverbank erosion was noticed all the way back in 1994, when the Traditional Council began examining alternative village sites. Then, in 1996, an oxbow in the Newtok River cut all the way to the Ninglick, opening up the village site to a dramatically more flooding overnight.
A map showing where a bend in the Newtok River spilled into the larger Ninglick River, opening up the village to storm surges and depriving it of a docking port for barges. The same year, the village council of Newtok voted to find relocation sites.
The landfill and the barge landing were also eaten up by the larger Ninglick River. Silt coming in from the Newtok River turned the area into essentially a mudflat, and the loss of the land buffer opened the whole town up to storm surges. It became clear that the village would not be livable in just a few decades.
In the past few years, village officials say erosion along the bank of the Ninglick River, to the south of Newtok, has claimed hundreds of feet land, in line with 2007 projections from the Arctic Slope Consulting Group, which was hired to conduct a study. But the problems are bigger than just erosion.
In town, melting permafrost has caused homes to sink and the boardwalks to warp, which has resulted in at least two broken ankles. And then there's the power poles, many of which some require two-by-fours to remain standing.
In some cases, those power poles are leaning so dramatically that while walking through town, you're forced to duck beneath low hanging power lines.
A boy carefully walks on the treacherous boardwalks that have been lifted and submerged by permafrost thaw in Newtok.
"It's kind of hard on us, the whole village," said Clifford Usungen, who recently made the move to Mertarvik. "It's not just certain homes, it's the whole village that's affected."
In mid-October, the first wave of people, roughly 143 residents - about a third of the village - started to pack up their belongings and make the move, nine miles away, to the new village site of Mertarvik.
Service members involved with the U.S. Department of Defense's Innovative Readiness Training moving Newtok to Mertarvik mission work June 27, 2019, at Mertarvik, Alaska. (Air National Guard photos by Technical Sgt. Daniel J. Martinez)
Construction on 13 new homes, housing the first wave of climate refugees, began in late spring. But it wasn't until about two weeks ago when the move got underway.
"To close this construction season, we're now in a sprint," John said. "Everyone is sprinting. Our contractors (in Mertarvik) are trying to meet their timeline. And our people that were supposed to start moving over two weeks ago have not been able to because of the storms."
Albertina Charles and her family were some of the first Newtok residents to move to Mertarvik. Although she was sad to say goodbye to the village she had lived her entire life, the changing climate left her no choice.
Friends help Albertina Charles load boxes on a skiff to take to Mertarvik.
"Everything is changing over there still," Charles said. "It's not safe anymore. Moving here, I feel safer. At first when I was coming here and looking at my old village, I cried. (I) didn't want to leave my village, but the underneath is not safe. No sand, no rocks. Just permafrost."
In order to complete the relocation, village officials say Newtok still needs to come up with more than $100 million. Although funding hasn't been secured, officials say the move is currently on track to be completed by 2023, the year that erosion is predicted to reach the village's airstrip.
Service members involved with the Innovative Readiness Training Newtok to Mertarvik mission continue their work June 27, 2019, at Mertarvik, Alaska. (Air National Guard photos by Technical Sgt. Daniel J. Martinez)
Copyright 2019 KTUU. All rights reserved.