Evangelists win right to proselytize in city park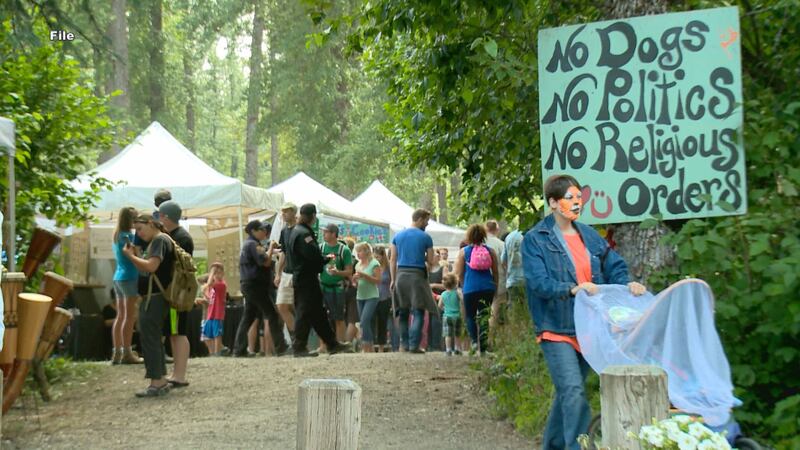 Published: Dec. 11, 2018 at 3:12 PM AKST
A father-daughter evangelical team has won a settlement with the city allowing them to distribute religious leaflets at the park used by the Forest Fair in Girdwood.
But whether they will be allowed to proselytize at a future event will be up to Forest Fair itself, said the city attorney who worked on the case.
Forest Fair officials didn't respond to messages left on their website and on Facebook. The 2018 Fair, held July 6-8, was the 43rd such event.
Pamela Weiss, a city attorney, said the settlement was a "narrow agreement." The Fair, or any organization, could still control city property like a park when it has a permit, she said. Only a government entity like the Municipality, and not a private nonprofit like the Fair, can be sued for violating someone's First Amendment rights, Weiss said.
David Grisham, of Anchorage, and his daughter, Tina Watson of Dallas, filed the lawsuit against the city after they were barred from proselytizing and threatened with trespassing arrests at the 2017 Fair. They said in their lawsuit that while they sometimes preach and walk around with signs, they only tried to hand out leaflets and talk with fairgoers.
"On July 8, 2017, my dad, my nephew Airric, and I drove to the park to share the Gospel with Fair attendees, intending to pass out tracts and visit with people," Watson said in a sworn statement filed in the case. "We didn't bring any signs, and I didn't plan to preach."
In their lawsuit, brought by the Bible-Belt public interest law firm Center for Religious Expression of Memphis, Tennessee, they said the city violated their constitutional right to religion. They asserted the Fair was a public event at a public park.
Memphis attorney Nathan Kellum of the Center for Religious Expression didn't return a call to his office.
In an interview, Grisham said he handed out tracts at the 2018 Forest Fair, though he was confronted and surrounded by volunteers who drowned him out by beating cans and drums.
Grisham said he intends to return again in 2019. "We're going to do it every year" as long as the park isn't fenced off and the Forest Fair remains "free and open to the public."
According to a copy of the consent order, John Rodda, the city's parks and recreation director, agreed to the settlement on Dec. 3. A semi-retired U.S. District Judge, John Sedwick, accepted the settlement and said he would monitor compliance.
The city agreed to pay a nominal settlement of $1 each to Grisham and Watson. It also said it would pay their legal expenses in an amount to be determined by Sedwick.
In their complaint, Grisham and Watson said they were "burdened" to share their faith with others.
"Grisham and Watson want people to know that all have sinned and fall short of the glory of God and deserve condemnation," according to the complaint. "Grisham and Watson believe all people can be saved by trusting in Jesus."
Assistant municipal attorney Todd Sherwood said in a 2017 letter sent to Grisham's attorney that Grisham was observed "aggressively approaching Fair goers in an attempt to speak to them" before he was directed to stop.
Both sides in the case agreed that the Forest Fair had posted the event with signs saying "No Dogs, No Politics, No Religious Orders." The Fair's website says the same thing.
The situation is complicated by the fact that Girdwood has a contract with Whittier to police its territory, including California Creek Park, the site of the Forest Fair. John Casselman, a Whittier officer who confronted the father and daughter, was originally a defendant in the lawsuit, but Sedwick ordered him dismissed for all aspects of the case in October.
According to the settlement, the city agreed that it wouldn't enforce the Forest Fair's "no religious orders" rule as long as California Creek Park remains "free and open to the public."
In his letter to Grisham's attorney, Sherwood, one of the city's lawyers, said that freedom of religion and other rights guaranteed by the U.S. Constitution "are not absolute" and can be regulated.
"The (Municipality of Anchorage) provided the Fair the same opportunity it provides any permittee: the opportunity to have the exclusive use of the park space for a limited time," Sherwood said. He said any permittee can choose to "use the space for any legal purpose and any type of speech during the time they have the space."