Only in Alaska: Lost luggage returned to mountaintop passenger by helicopter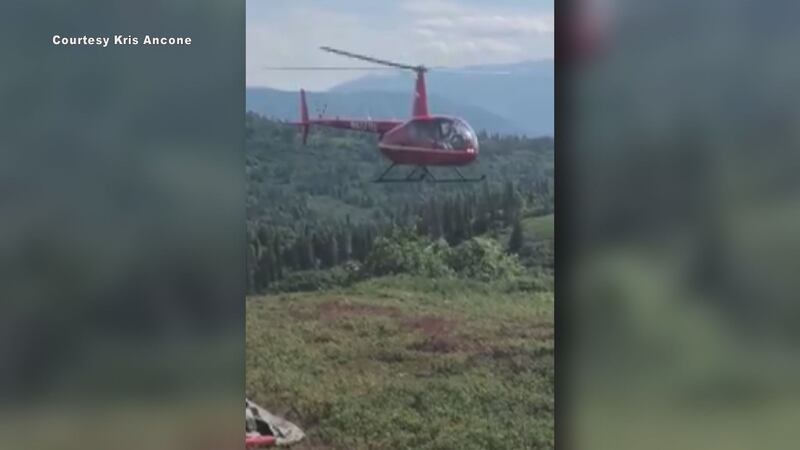 Published: Jul. 25, 2018 at 9:07 PM AKDT
Many of us have had the experience of getting off a plane, and your suitcase doesn't. Usually, the airline tracks the bag down and delivers it to your home or hotel. But this bag delivery went above and beyond-- literally.
Charleston, South Carolina resident Kris Ancone is building a cabin outside of Talkeetna this summer and he's on a tight timeline. So tight, that when his bag didn't come off the baggage carousel, he couldn't wait for it.
The bag contained a one-of-a kind gift that was not something he could easily replace. Alaska Airlines' customer service representatives heard that and sprang into action, tracking the lost piece of luggage, finding it and then delivering it.
And that delivery came in a unique way-- by helicopter. Ancone says "It was stuck in Charleston, she had to get it from another airline to see if they could get it here."
Alaska Airlines spokesman Tim Thompson says as far as he knows, there has never been a delivery to this extent. "Occasionally, we'll send recovered bags by floatplane, but in seven years here, I've never seen this."
Thompson even asked some of the carrier's baggage experts to see if they could remember such an out-of-the-way delivery, and they said no.
Ancone says the people are so friendly here in Alaska, and says his cabin started with a simple handshake deal.
Dusty Bannon hauled the massive logs in and started work even before the men met. Last Saturday, they met on the mountain-top building site.
"I love it man! That's Alaska. People back home ask, 'Why do you go to Alaska man?' I'm like, 'That's Alaska-- it's like another culture.' "