UDPATE: Suspect arrested and charged with murder for Fairbanks homicide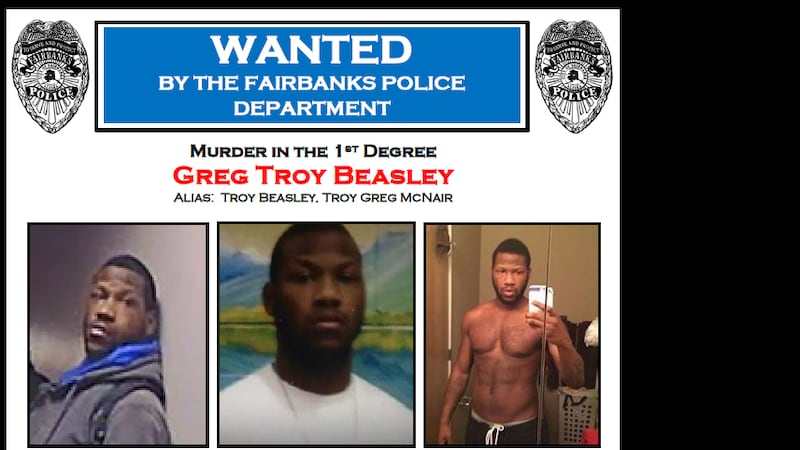 Published: Sep. 12, 2017 at 12:53 PM AKDT
Fairbanks Police say they have arrested a second person as an accomplice in the death of Guy Yazzie.
Frederick Sam Rychart was arrested on charges of murder in the second degree and tampering with evidence.
Fairbanks Police Department has arrested Greg Troy Beasley on charges of murder in the first degree and tampering with evidence.
Beasley was reported to be camping in the Fairbanks area. FPD searched in areas "historically known to have transient camps."
FPD says Beasley was located in a transient camp near Airport Way and the Steese Hwy.
He was arrested without incident.
The investigation is ongoing, said FPD>
On Wednesday, the Fairbanks Police Department said the primary suspect, regarding Sunday's homicide victim, is still at large.
On Sept. 10, around 10:08 p.m., Fairbanks officers were notified of a victim bleeding out inside the residence at 726 17th Avenue. When police arrived on scene, they discovered 47-year-old Guy Mitchell Yazzie suffering from "multiple stab wounds to the heart, torso and legs," according to FPD public information officer Yumi McCulloch.
McCulloch added that the victim also had "defensive wounds" on his left arm.
Following an autopsy, Yazzie's death was ruled a homicide by the State of Alaska Medical Examiner's Office.
Officers were able to recover a nearby knife that detectives believe was used in the homicide, said McCulloch; moreover, FPD detectives are identifying the primary suspect as 27-year-old Greg Troy Beasley.
McCulloch said an arrest warrant, for first-degree murder, has been issued for Beasley.
According to McCulloch, the department considers Beasley to be "armed and dangerous." If seen, she urges that citizens call 9-1-1 immediately.
FPD describes Beasley as a black male with brown hair and brown eyes, has tattoos and has a pierced left ear. They say he is between 5 feet 6 inches tall to 6 feet tall, and he weighs 215 pounds.
Police added that other aliases Beasley uses include: Troy Beasley and Troy Greg McNair.
If you have any information regarding this homicide case, or Beasley's whereabouts, call either Detective Peyton Merideth at (907) 450-6553, or FPD's Investigations Unit at (907) 450-6550.
This is an ongoing story and will be updated with more information.
Original Story - Sept. 12, 2017:
A man in Fairbanks was found dead under what authorities are calling "suspicious circumstances."
The body of victim Guy Mitchell Yazzie, 47, was discovered on Sunday by Fairbanks Police Department officers, who responded to 726 17th Avenue in Fairbanks.
Yumi McCulloch, public information officers of FPD, said that while they cannot release further information regarding the circumstances of Yazzie's death, she did confirm that it was being investigated as a homicide.
"We're not releasing those details at this time, as it's part of the ongoing investigation," McCulloch said.
Police are asking for anyone with information to come forward, as there are people being sought aside from those witnesses at the scene that police have spoken with.
McCulloch said that there is no current public safety concern related to this issue.
Authorities in Fairbanks are asking those with information to contact Detective Peyton Merideth at 907-450-6553.