UPDATE: Fairbanks officer who predicted his own shooting has died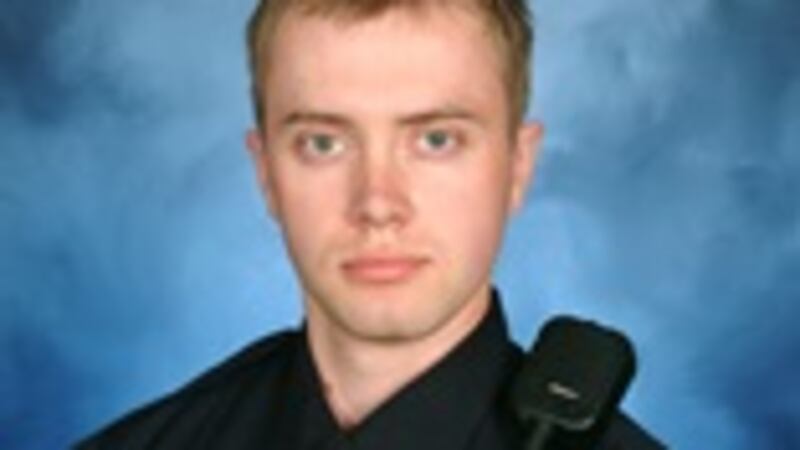 Published: Oct. 28, 2016 at 9:08 AM AKDT
Fairbanks Police Sgt. Allen Brandt has died.
The officer, who was shot earlier this month, suffered complications during surgery on his eye on Thursday. His condition deteriorated, and he was not able to recover, according to Acting Police Chief Brad Johnson.
"Fairbanks lost a hero today," Johnson said. "Our community, our department, our families and our friends are hurting."
At a 5:30 p.m. news briefing Friday, Johnson was fighting back tears and struggling to compose himself.
"We thank you for all the support you have given us so far, and we ask for more for his family," he said.
Brandt was an 11-year veteran of the Fairbanks Police Department. He leaves behind a wife and four children.
Anthony George Jenkins-Alexie, 29, was charged Monday with attempted murder and other felony counts in the shooting of Brandt.
This is a developing story. Check back for updates.
The Fairbanks Police sergeant, who was shot five times while responding to a call earlier this month, is back in the hospital after complications following a scheduled eye surgery Thursday in Anchorage.
A release from the Fairbanks Police Department stated Sgt. Allen Brandt is "currently sedated and receiving treatment."
Fairbanks Mayor Jim Matherly told Channel 2 that Brandt had extensive surgery to his eye on Thursday and is asking all city employees to "pray for a swift recovery...keep him in your thoughts and prayers."
Brandt was struck four times in the lower part of his body and once in the chest on October 16th while responding to reports of gunfire and someone screaming on Fairbanks' 7th Ave. According to Fairbanks Police, Brandt encountered the suspect walking on the sidewalk, and the suspect opened fire.
Brandt was wearing body armor to protect his chest but sustained injuries to his legs and was hit by shrapnel in his left eye. Brandt later told the Fairbanks Community Council that he was shot five times in his leg.
In audio from an October 24 City Council meeting, Brandt was publicly acknowledged for his work. He spoke afterward, at times sounding tearful, about the difficulties he faced while working as a police officer.
"The night I was shot, I had my four kids and my wife on my bed, and I read them a story, like I do," Brandt said. "After the story, I told them, 'I think I'm going to get shot tonight.' And - I'm in the middle of a gun battle - that's all I could think about.
"And the first two people to call [my wife] to tell her (about the shooting)," he said, "she hung up, because she thought I was playing a practical joke on her, and she thought it was a cruel joke. I wouldn't have done that to her, but can you imagine telling your kids before you go to work that you're going to get shot? Well, that's what our police officers deal with every day. And I'm not complaining, but I just want you to know what it's like in the life of a police officer."
Brandt also asked the community for more support for police officers.
"I work weekends when my friends are off, I work nights, don't sleep with my wife," Brandt said, adding that other officers face the same challenges. "I can't ever let my guard down: Not at Fred Meyer, not at my house. I travel everywhere, armed, always vigilant, always watching.
"We need your support, not just when bad things happen," he said. "The officers over there do a hard job, and most of the time it's thankless, and we've really appreciated the outpouring of support that's come from this."
A spokeswoman for the Fairbanks Police Department said in a release that, "out of respect to the Brandt family, we are not releasing further information at this time."
The suspect in the shooting, Anthony George Jenkins-Alexie, 29, has been charged with first-degree attempted murder, first-degree assault, vehicle theft, and tampering with evidence.
This is a developing story. Check back for updates.