Findings from the bottom of Eklutna Lake: USGS scientists reflect on months of earthquake research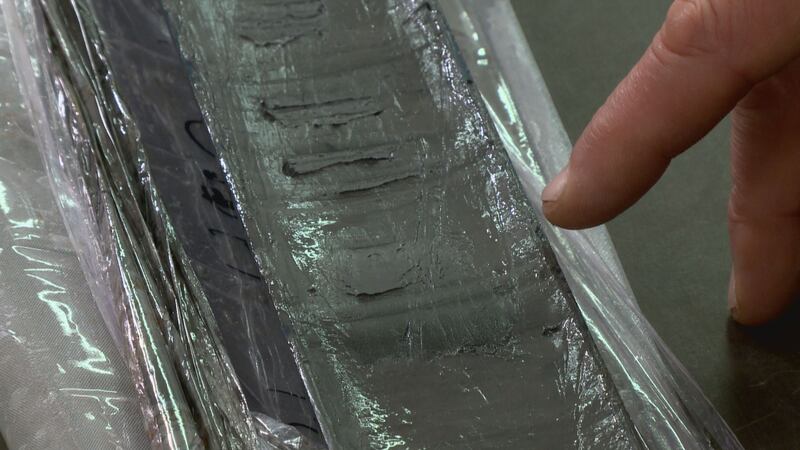 Published: Nov. 1, 2019 at 7:04 PM AKDT
February of this year, a small group of researchers braved frigid temperatures and high winds to travel across the then-frozen surface of Eklutna Lake. Working as a team, they drilled 30 holes in the lake's surface. Afterwards- long cylinder full of sediment (more commonly referred to as core samples) were retrieved from the lake's floor. You can find more about their research
.
Now, just one month away from the anniversary of the magnitude 7.1 earthquake that shook South Central Alaska on November 30, 2018- Much of the research that followed the seismic event is set to be published. Geologist Peter Haeussler, who was part of the Eklutna Lake collection, has been studying earthquake impacts on sediment in lake beds for 9 years. According to Haeussler, these cores can record geological events much like the "rings" of a tree. This was one of the best ways to continue observing physical evidence from the earthquake, even months after it had occurred.
"There's definitely a sense that we've got to collect data that's going to go away," he said. "In the case of this earthquake, there was a lot of ground cracking but within a week, the ground was covered with snow."
Along with the study at Eklutna Lake, several other papers that stemmed from the Nov. 30 earthquake will soon be published in an upcoming special issue of
.
"A paper on ground failures, one on buildings shaking in various ways, one on bass and amplification," Haeussler said, listing off several of the topics that will be covered, "How Cook Inlet caused some of the shaking to be larger here ... A lot of that is coming out right now."
Further studies will take place next Summer, as Haeussler and his colleagues continue working to determine how often earthquakes similar to the Nov. 30 seismic event occur in Alaska.