Frustrated, fearful & furious: Hundreds rally to restore Alaska's ferry service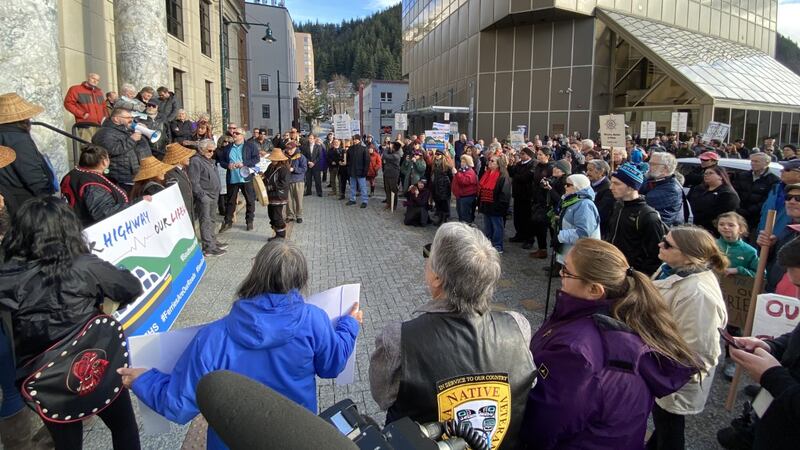 Published: Feb. 11, 2020 at 5:48 PM AKST
Hundreds of people attended protests across Alaska calling for the state's ferry service to be restored.
Ann Stepetin was part of a huge crowd who gathered on the steps of the Alaska Capitol, frustrated by what a lack of service was doing to her hometown of Angoon. "Grocery stores are going empty, the freezers are empty," she said.
Angoon has no dock for barge service, instead it relies on seaplanes to deliver food if ferries aren't running.
Stepetin tearfully described a friend in Angoon who was excited to get supplies to make a meal from a recent shipment. "It's so hard to see them suffer," she said.
The issue with getting supplies to remote Alaska villages across Southeast Alaska is widespread.
Gale Good owns a cabin in Tenakee Springs and spoke about friends unable to get building supplies to repair property. "It's really tough," he said.
Carl Brodersen, a Juneau resident with family across Southeast, described the consequences if planes aren't able to fly to villages off the road system. "If you get all of your food on a seaplane and it's winter and the planes aren't flying, and you don't have food, you go hungry," he said.
Ten of Alaska's 11 ferries are currently in layup or unable to sail. The sole-surviving ship, the Lituya, is stuck serving the Metlakatla to Ketchikan route.
Mary Siroky, a deputy commissioner with the Department of Transportation, told the House Finance Committee on Monday that ships are expected to be coming online in the near-term, starting with the Tazlina and the Matanuska in early March.
DOT is also looking into contracting with private companies to bring some service to the Northern Lynn Canal into spring. Siroky said a plan could be announced by the end of the week.
The governor also put $7 million into a supplemental budget request to assist with bringing ships back online. $43 million was cut from the ferry system by the Legislature and the governor in 2019.
Frustrated protesters expressed concerns that the Alaska Marine Highway System is seen by some in the state to be different to other Alaska highways. "It's absolutely absurd that we have all these roads up north but we don't have the water roads down here that we're supposed to have," Brodersen said.
Across Alaska, rallies were held simultaneously in communities such as Petersburg, Kake and Cordova.
A rally was also held in Anchorage to protest a loss of ferry service. Sarah Khlfi, an organizer with Save Our State, said the challenges that a reduction in ferry service provided wasn't isolated to Southeast.
"This is really a problem that's affecting all Alaskans, not just coastal communities," she said.
Copyright 2020 KTUU. All rights reserved.