Geologists researching Eklutna Lake sediment for earthquake evidence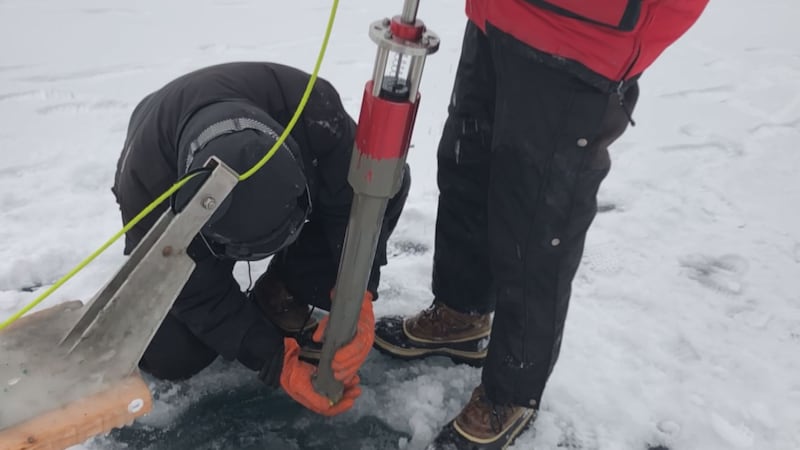 Published: Feb. 17, 2019 at 6:00 PM AKST
Scientists aren't sure whether a magnitude-7.0 earthquake - specifically, the one felt in Southcentral Alaska last year - would be strong enough to trigger an event that equates to an underwater landslide.
However, they'll know soon enough.
On Sunday, a team of researchers from the U.S. Geological Survey and Ghent University took the second half of a 30-part sample of cores from the floor of Eklutna Lake. The hope is that the cores will display irregular sediment deposits that can be traced back to the period of time when the earthquake occurred.
According to USGS geologist Peter Haeussler, the bottom of the lake could house a trove of data about how earthquakes affect the area around the body of water.
"It's sort of like the rings on a tree," Haeussler said. "The cores we're taking are a couple of feet long and cover a history of about 100 years."
Haeussler said the team has taken some cores up to 55 feet long in the past, which cover significant geological events under the lake for a stretch of roughly 3600 years.
Two researchers from Ghent University in Belgium also came all the way to Alaska to assist Haeussler with the sampling process. They've been researching the lake for years, and said they believe that last November's earthquake could have prompted a significant change in the sediment on the floor of the lake.
Because of past research, the team has pinpointed sample soil from the Good Friday Earthquake of 1964 as well as a dam break at Eklutna Lake in 1929. If there was any significant movement of the soil under the lake during our recent magnitude-7.0 earthquake, they should have no problem spotting it.
"Looking at the soil, you can have this annual record of things that happen in the lake." Haeussler said. "In this environment, that helps to make for good science ... which can make for a safer place to live."