ASD, teacher's union create new program to keep young teachers in state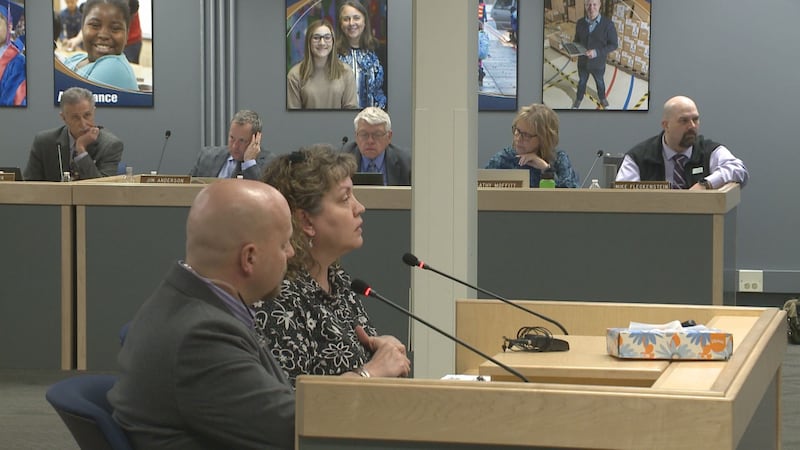 Published: Jan. 26, 2019 at 8:38 PM AKST
In an effort to lower a high attrition rate of young teachers in the Anchorage School District, ASD and the Anchorage Education Association have a program to bring and keep young teachers in Alaska.
Onboarding and retention efforts were revamped in 2016, according to AEA President Tom Klaameyer, after 141 of 303 teachers hired in the 2011-2012 school year remained – amounting to an attrition rate of young teachers of about 53.5 percent. Additionally, 28 percent of all ASD teachers have been teaching for five years or less.
in February 2018 from its Great Public Schools Fund, to develop a 3-year program for early career educator support and engagement.
AEA presented the fruits of that grant money, titled "Path to Success: Early Career Educator Induction and Orientation," to the Anchorage School Board at its regular meeting Jan. 22.
"We're really excited that we won that grant, and have $300,000 to improve our induction, onboarding, orientation and mentoring for our new teachers, who we know are the hardest years to teach," Klaameyer began. "The number one reason for those teachers who don't stay in the profession is that they aren't supported enough to be able to do so."
Klaameyer was joined in the presentation by ASD's Coordinator of Inductions Kim Girard. She opened with an analogy to put the project into context.
"When people look at me funny I say, it's like the welcome wagon for the new teachers," Girard said. "It really behooves us to look at our new teachers, welcome them into our community, and work at helping them grow their teaching skills so that they want to stay with us and be part of our district."
The 2018-2019 school year is a foundation year for the program, referred to by Girard as the "Building Induction Liaison Program." Fifteen schools are participating, from elementary to secondary levels. The focus is primarily on the relationship between the school principal and the building induction liaison to identify needs specific to each school, in order to design unique templates for induction efforts. Klaameyer says AEA aims to include 100 schools in the program for the 2019-2020 school year.
The Path to Success program uses templates designed for specific schools, establishing a mentor network to create a more supportive environment. It leverages the existing AEA New Educator Support Team (NEST) to enhance social networking and help build early relationships among new teachers.
Trained teams monitor and assess the program's effectiveness, and each new educator completes a survey every two months on the supportiveness of their new environment. The survey results will be used to make any necessary adjustments in following grant years, according to AEA.
If you've read this far and have been waiting for it, yes, there is a catch. Meghan Card, lifetime Alaskan and drama teacher at Gruening Middle School, says the program can't make up for a lack of retirement incentive for new teachers.
"That's the biggest thing, if you talk to teachers, they're like, 'I don't really have a reason to stay,'" Card said. "There's not that same security, and when they're looking across at other states, there's more security in that sense for retirement."
offers pension for tenured teachers. Teachers who entered the system prior to July 1, 2006 are members of the TRS Defined Benefit (DB) Plan, including
. This plan only applies to teachers meeting requirements for Tiers I (entered between 7/1/1955 and 6/30/1990) and II (entered after 6/30/1990).
In contrast, TRS Tier III employees (those who began teaching after June 30, 2006) participate in the
, which does not include PRPA benefits.
These retirement benefits are determined by legislation at the state level, and Card says they have implications across the state when it comes to bringing on new employees. "I hope it's something they're going to address, because it's affecting a whole host of workers at the state level with positions that are vital that we fill," Card said. "With teachers, state troopers, all those kinds of things that cost money to fill when you have turnover, and you're investing time and training into people and when they decide, 'This just isn't enough,' there's no incentive to keep them there."
Klaameyer acknowledged this particular problem in front of the school board. "We can't do a lot about retirement in the immediate future, although we're working on that at the state level."
ASD Superintendent Deena Bishop also weighed in on the program at the end of the presentation. "It's an innovative program, and an excellent partnership, and it's a really good thing for ASD."
Girard says the
reached between ASD and AEA includes an addendum to expand the opportunity of ASD schools to offer the Building Induction Liaison position to ensure continued support of new teachers.