Habitat for Humanity home dedicated to first-time homeowners in Anchorage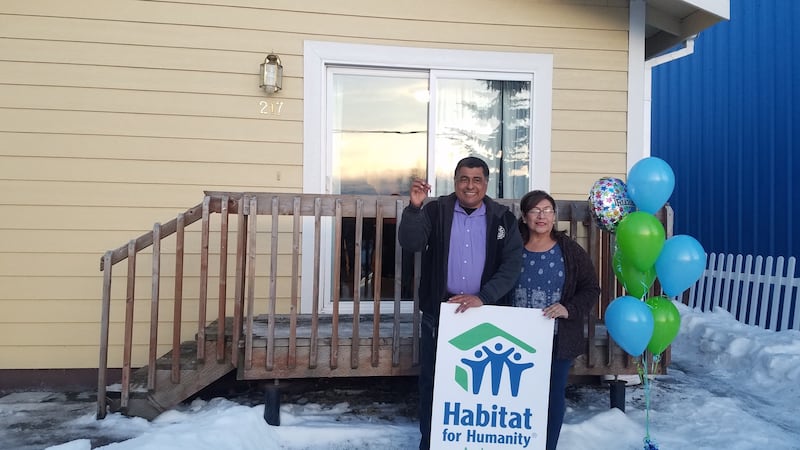 Published: Mar. 4, 2019 at 4:24 PM AKST
An Anchorage couple, Edgardo and Miriam Montano, are celebrating their journey to home-ownership with the help of Habitat for Humanity and other community partners after officially receiving the keys to their new home during a dedication ceremony Monday.
38 years of patience, hours of sweat equity and volunteer work, and a whole lot of faith have finally paid off for the Montanos, who moved to Anchorage in 2013 from El Salvador, and will soon be moving into a quaint two-bedroom home in Mountain View.
"We're helping the Spanish-speaking people here in Alaska, teaching them by way of the Bible to have a better life, to be responsible citizens here in Alaska, and to have a united family," Edgardo said. "There's 36,000 Spanish speaking people in Alaska, and very few churches to spiritually serve that community, and so we felt in our hearts to come to Alaska to help the Spanish community."
The Montano's say they're looking forward to moving in to the little yellow house, and to making their home a place of service and worship while hosting friends from around the world.
"I teach by way of the Bible, that God blesses us so that we can be a blessing to others," Edgardo said. "So today God has blessed us, and we want to bless others."
The home the Montanos are moving in to is what Habitat for Humanity calls a recycle — a Habitat-built home with previous homeowners. Habitat bought the house back from those homeowners, and are now selling it to the Montanos. Since their home is already built, the Montanos put in about 250 hours each on other projects Habitat is currently working on. They also volunteered in Habitat's Re-Store, and took courses on how to be financially ready to purchase a home.
Habitat for Humanity Anchorage is currently working on a new build off Duben and Muldoon. The organization is slated to dedicate anywhere from five to seven homes this year, with three of those coming up this summer.