'I feel the disabled have been forgotten' - Anchorage woman wants new transportation system for disabled commuters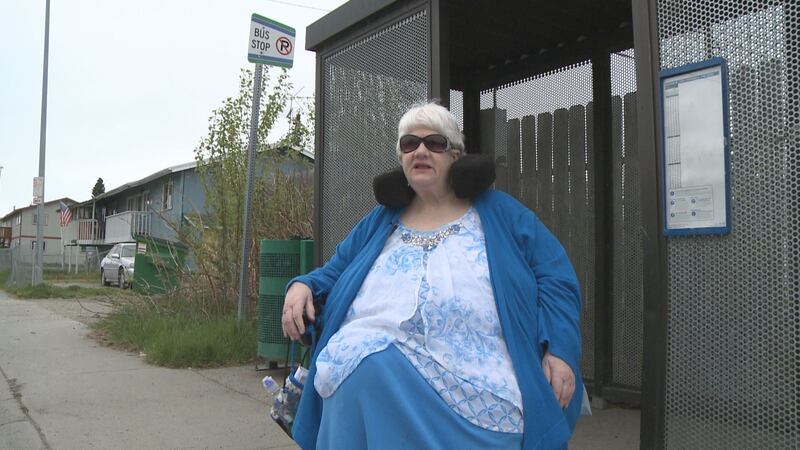 Published: May. 19, 2019 at 4:35 PM AKDT
A physically handicapped woman in Anchorage plans to ask the city and state to fund a new public transportation line for Anchorage's disabled commuters, saying the city's current options are inadequate.
"I feel the disabled have really been forgotten, and we're kind of an invisible population," Lois Gilbert told Channel 2. She's been confined to a wheel chair for over a decade as a result of injuries from automobile accidents.
Gilbert is dependent on Anchorage's public transportation system, which she says does not adequately address the needs of the city's disabled commuters for a few key reasons:
-
. Gilbert says handicapped transit riders are "sitting ducks" for muggers at People Mover bus stops, she says especially at her stop in Mountain View, where she's been held at knife-point.
-
. Gilbert says trips with AnchorRIDES, the city's shared ride service offering rides in compliance with federal standards for the transportation of disabled people, are jolting and uncomfortable. "I'm told about half of the people who are disabled can't use AnchorRIDES right now because they're so bumpy," she said.
-
. "If a disabled person says they need an accommodation, then listen to them," Gilbert said.
Gilbert is presenting her idea for a new line of handicapped-accessible public transportation vans to the Anchorage Assembly on Tuesday. Assembly member Christopher Constant told Channel 2 on Sunday that he looks forward to hearing what Gilbert has to say.
A handicapped woman in Anchorage is advocating for what she says should be equal access to public transportation services in the city.
Lois Gilbert has been confined to a wheel chair since 2004, after multiple car accidents injured her back and neck so badly she could no longer walk.
Over the years, Gilbert has ridden People Mover, Anchorage's public bus transportation line. She has spent countless hours waiting at her bus stop on Parsons Avenue in Mountain View, where she says she's experienced multiple dangerous confrontations – like having a knife pulled on her.
"The knife that was pulled on me, he was sexually harassing me and that immediately gets my back up," Gilbert said. "So I just told him, 'The bus is going to be here any minute, and it would be a really good idea for you to leave.'"
Officials with the Municipality of Anchorage's Public Transportation Department have commented in the past that
But safety isn't the only thing on Gilbert's agenda; she wants the city and state to help fund a disability van service for use across Anchorage. She plans to ask the Anchorage Assembly for just that at its regular meeting this coming Tuesday.
This story will be updated with more information.
Copyright 2019 KTUU. All rights reserved.