UPDATE: Hundreds still without power Wednesday following massive windstorm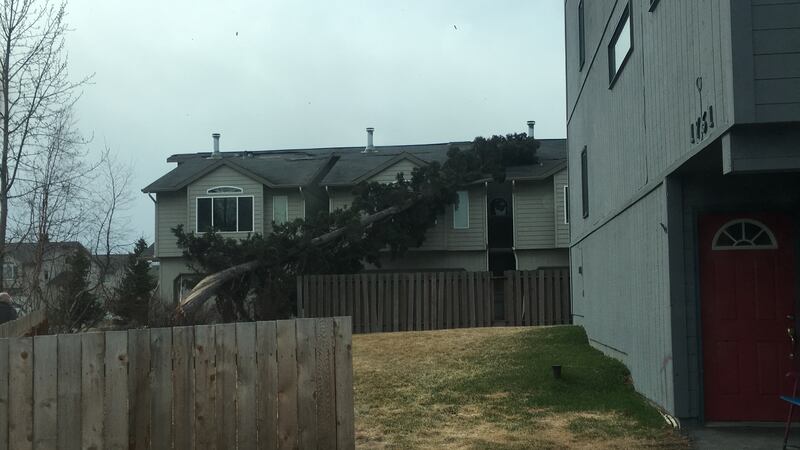 Published: Apr. 24, 2018 at 3:03 PM AKDT
Update 12 p.m. Wednesday:
By noon on Wednesday, Chugach Electric's outage map showed that only about 500 Anchorage customers were still out of power.
MEA's map shows less than 50 Eagle River customers out of power.
The day after a massive windstorm knocked out power to thousands of residents in the Anchorage area, almost 2,000 remain without power, according to local power providers.
In a statement issued on Twitter, Chugach Electric said that, as of 5 a.m., over 1,800 members still don't have their power back on, despite emergency crews working through the night and rotating on a constant schedule.
CE called the weather event Tuesday "especially challenging," as the number of trees knocked over by winds then went on to knock over poles and down further lines.
The company said that the larger outage areas include Campbell Airstrip, Debarr, Dowling, and O'Malley. They said crews will "keep going until all power is restored."
April 24, 7:30 p.m. Update
Municipal Light & Power said in a
shortly before 5:30 p.m. that multiple outages are affecting an estimated 2,500 customers due to high winds. Services areas affected include parts of Northeast Anchorage, Airport Heights, and parts of midtown near the Chugach Electric and ML&P boundary on Lake Otis Parkway and Tudor Road.
According to the latest update from Chugach Electric's outage map just after 7:40 p.m., more than 7,700 customers remain without power.
High winds blasting through Anchorage are causing limited power outages. According the the Chugach Electric Facebook Page, 1,500 customers have been restored to full power in the O'Malley/Prospect outage.
.
As of 4:30 p.m., about 9,300 Chugach members are out of power, largely on the HIllside and East Anchorage, but also into Midtown.
At the same time, Matanuska Electric has about 2,075 members without power, mostly in Eagle River.
A large tree was located in the line along Birch Road there. Crews continue to work other outages on the system. A new outage impacting approximately 650 customers along Hillside Dr/Upper Huffman Rd./De Armoun Rd/Rabbit Creek Rd around 2:30 pm. the extreme winds reportedly ripped the roof off a home in the Upper DeArmoun area. In fact, that location reported some 5 wind gusts between 1:00 and 1:15 p.m. that were in excess of 90 miles per hour. The highest gust reported at 96 mph.
Arctic Valley, according to the National Weather Service, hit 86 mph. And even Ted Stevens Anchorage International Airport had 50 mph gusts. Travelers flying into Anchorage last night and Tuesday reported bumpy rides as the planes came in for landing.