Hilcorp pledges to hire 'vast majority' of BP Alaska workers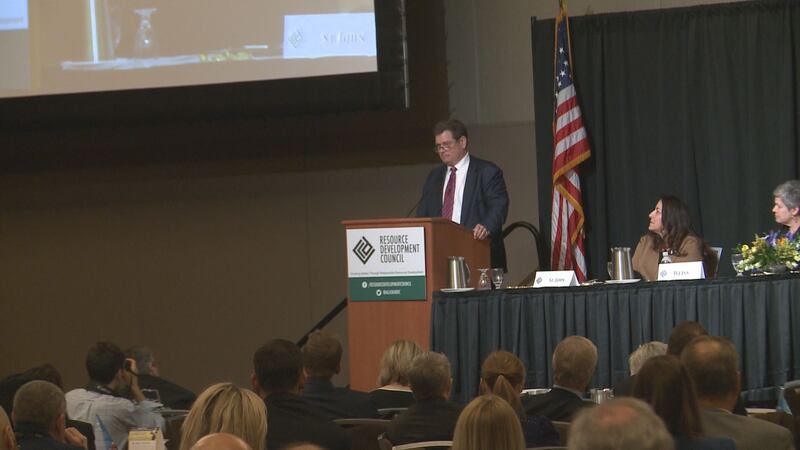 Published: Nov. 20, 2019 at 9:11 PM AKST
"So, Dave, here's the keys!"
And with that, the symbolic handover of Prudhoe Bay was complete.
Janet Weiss, the President of BP's Alaska operation, did pause before saying, "almost," referencing the regulatory hurdles yet to be cleared.
On stage, she gave the Houston-based oil company Hilcorp a warm welcome at the annual Resource Development Council conference in Anchorage. Weiss also gave thanks to Alaska for four decades of oil extraction on the North Slope.
"We would not be the company we are today without Alaska," she said.
BP has pumped 13.6 billion barrels of oil down the Trans-Alaska Pipeline, Weiss says Hilcorp is well-placed to pump at least 2 billion more barrels out of the legacy field.
David Wilkins, a vice president of Hilcorp, accepted the welcome and thanked Weiss with a hug, calling her his "big sister."
He offered reassurance to the roughly 1,600 BP Alaska employees who may feel uncertain about their futures.
"We're still working through it and we're getting very, very close to extending offers," he said. "BP's excellent and qualified workforce will be key to the operation of Prudhoe Bay into the future."
Wilkins didn't specify how many BP employees would be offered jobs but said Hilcorp would "onboard the vast majority of folks interested in coming on board."
What Prudhoe Bay will look like under Hilcorp's management remains unclear. "Honestly, today I can't tell you, because we're still in the seek-to-understand mode," Wilkins said.
The company is speaking to BP employees, state regulators and formulating a plan for how it will operate the United States' most productive oilfield. Wilkins says he hopes the sale will be finalized sometime in 2020.
Other aspects of the company remain opaque. Hilcorp has requested to keep its financial records confidential as its purchase of BP's Alaska assets moves through the regulatory process.
On Tuesday,
that state regulators have granted a second extension to a public comment period on the BP-Hilcorp sale.
Copyright 2019 KTUU. All rights reserved.