Illegal fishing boat detained on high seas by USCG with 80 tons of salmon onboard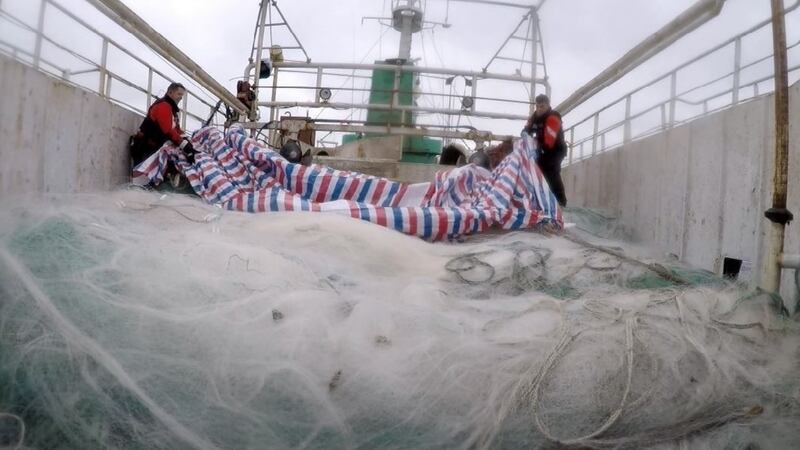 Published: Jun. 22, 2018 at 1:02 PM AKDT
An illegal fishing vessel was detained Saturday by the U.S. Coast Guard off the coast of Japan for illegally harvesting squid and salmon with driftnets on the high seas.
The U.S. Coast Guard worked with the People's Republic of China Coast Guard to detain the fishing vessel Run Da for allegedly illegal, unreported and unregulated fishing. The boarding of the Chinese-flagged vessel took place 860 miles east of Hokkaido, Japan. Coast Guardsmen on the cutter Alex Haley, homeported in Kodiak, Alaska, were part of the team.
The fishing vessel is suspected of violating a worldwide driftnet moratorium called for by the United Nations. The Run Da's captain reportedly admitted to fishing with drift nets up to 5.6 miles in length.
The boarding team found one ton of squid and 80 tons of chum salmon on board.
The Chinese Coast Guard took custody of the boat and its crew in the Sea of Japan, and is expected to escort the boat back to China for prosecution.
China and the U.S. have a Memorandum of Understanding to conduct joint boardings and high seas inspections, which outlines boarding procedures for law enforcement officials of either country to board and inspect U.S. or Chinese-flagged vessels suspected of high seas driftnet fishing.
The chief of the Coast Guard's response in the 17th District says this is the first apprehension of a high seas driftnet fisher since 2014.