Investigators identify suspect in 1978 Seward Highway murder cold case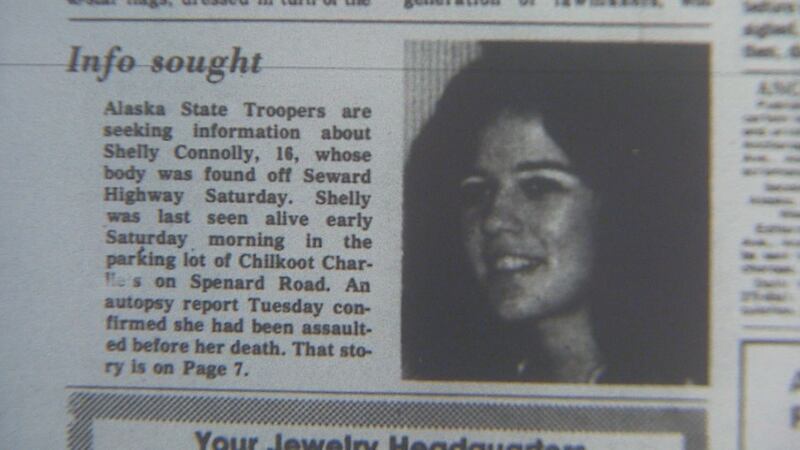 Published: Sep. 3, 2019 at 12:48 PM AKDT
Investigators think they have solved a forty-year-old cold case that left a then 16-year-old girl dead and her family without any closure.
The night she disappeared, Connolly had told her mother she was going roller skating. But the teenager had instead gone to Chilkoot Charlie's, a local bar, and was later seen eating at Leroy's Diner.
An autopsy revealed Connolly had suffered greatly in the hours leading up to her death. She'd been raped, beaten and dragged from a moving car.
"They had thrown her over an embankment and she tried to crawl up because her fingernails were all broken and full of debris," Judy Connolly, Shelley's mother, told KTUU in 2016.
Judy Connolly, the victim's mother, arrives at Alaska State Trooper press conference on Tuesday afternoon.
"A mother's always supposed to be there to protect her children," said Connolly, explaining the difficult feelings that linger after a child dies. During that interview in 2016, Connolly said she'd come terms with the fact she might never see her daughter's killer brought to justice.
Despite obtaining DNA samples from Connolly's body at the time of her death, efforts to match it with a suspect were futile until recently.
According to an affidavit submitted last week, in May of 2018, an investigator decided to look into a new type of genetic testing that could match DNA from a crime scene with his or her relatives and give a high probability of the genetic relationship to those with DNA in a national database. The technique is called "genetic-geneology" and was used earlier in the case against
That led investigators to a woman in Florida whose testing suggested was likely the suspect's second cousin or first cousin once removed.
Eventually, that evidence was used to match to a suspect, 62-year-old Donald McQuade, who was then living in Oregon. Troopers got in touch with police in Gresham, Oregon, who were able to obtain a cigarette butt from McQuade. They sent the butt up to Alaska for testing and were able to positively confirm that the DNA from McQuade matched the DNA from the murder.
The DNA search led investigators to Donald McQuade, who lived in Anchorage at the time, drove a car similar to the one Connolly was seen getting into, and the presence of his DNA under her nails, on her jeans and on her body. He also had a scar on his right cheek, something that Connolly's friends mentioned during the early investigations.
On Friday, prosecutors submitted a criminal complaint for the charges of murder in the first degree and murder in the second degree. According to court documents, he admitted to investigators that he may have had intercourse with Connolly, but denies having killed her.
This is a developing story. Copyright 2019 KTUU. All rights reserved.