UPDATE: Iron Dog Day 2: Team 10 leads in Kaltag as Team 8 makes up ground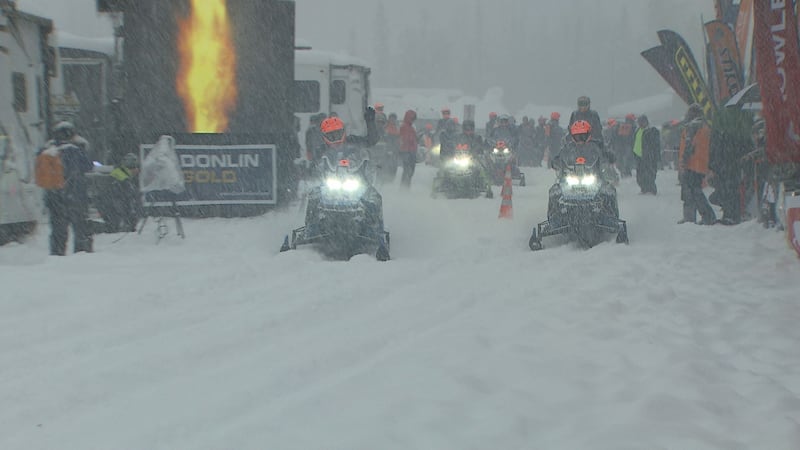 Published: Feb. 18, 2019 at 12:32 PM AKST
UPDATE, Feb. 18, 6:45 p.m.:
A day can make all the difference: Team 8, of Tyler Aklestad and Tyson Johnson, is in 6th place and on an eight-hour mandatory layover in Kaltag. This comes after the team was unsure if they'd even be able to race Monday due to the condition of Aklestad's sled after Sunday's crash with Team 16.
Since Team 16's crash, which left Todd Minnick with a broken leg, Minnick was flown to Anchorage for his injuries from the collision. He and his teammate were forced to scratch from the race. Team 8 was able to borrow parts from Minnick's sled, and get back on the trail.
Aklestad and Johnson have their work cut out for them as Team 10, of Mike Morgan and Chris Olds, have been on a tear since the start line. Morgan and Olds were in first place at the Kaltag checkpoint for an 8-hour layover as of Monday evening, despite being the last team to leave the start at Deshka Landing. They made up enough ground to become the first team out of the McGrath checkpoint Monday morning.
As of publishing time, a handful of other teams were also at the Kaltag checkpoint, taking their 8-hour layovers. Included in that list are Team 14, of Casey Boylan and Bryan Leslie; Scott Faeo and Robby Schachle, of Team 20; Team 6's Adam Drinkhouse and Brad George; and Team 5, Brett Lapham and Zack Weisz.
Then full Iron Dog 36 leaderboard can be found on
Iron Dog Team 8, Tyler Aklestad and Tyson Johnson, are back on the Iron Dog trail after a crash with Team 16 Sunday jeopardized their race future by badly damaging Aklestad's sled.
Team 16's Todd Minnick was flown to Anchorage for his injuries from the crash, causing his team to scratch from the race. A friend of Team 16 told Channel 2 Minnick was back at home resting Monday morning.
[Minnick home resting, Team 8 back on clock after Iron Dog crash]
Both teams are former champions of the snowmachine race across Alaska.
While Team 8 was back on the clock at 10:15 a.m. Monday, their eligible time to leave, sled work must be done on race time.
The team was able to borrow parts from Minnick's sled, a race official said. Since Minnick had rear-ended Aklestad, the back of his sled was fine. Both teams ride Ski-Doo snowmachines.
While the race stats show Team 8 clocking out of McGrath at 10:15 "officially" in 6th place, the GPS tracker shortly after 12:15 p.m. showed the team catching up to the teams that left McGrath in 10th, 11th, and 12th places.
Channel 2's Beth Verge contributed to this report.