Judge to rule on free-speech case of political signs in Alaska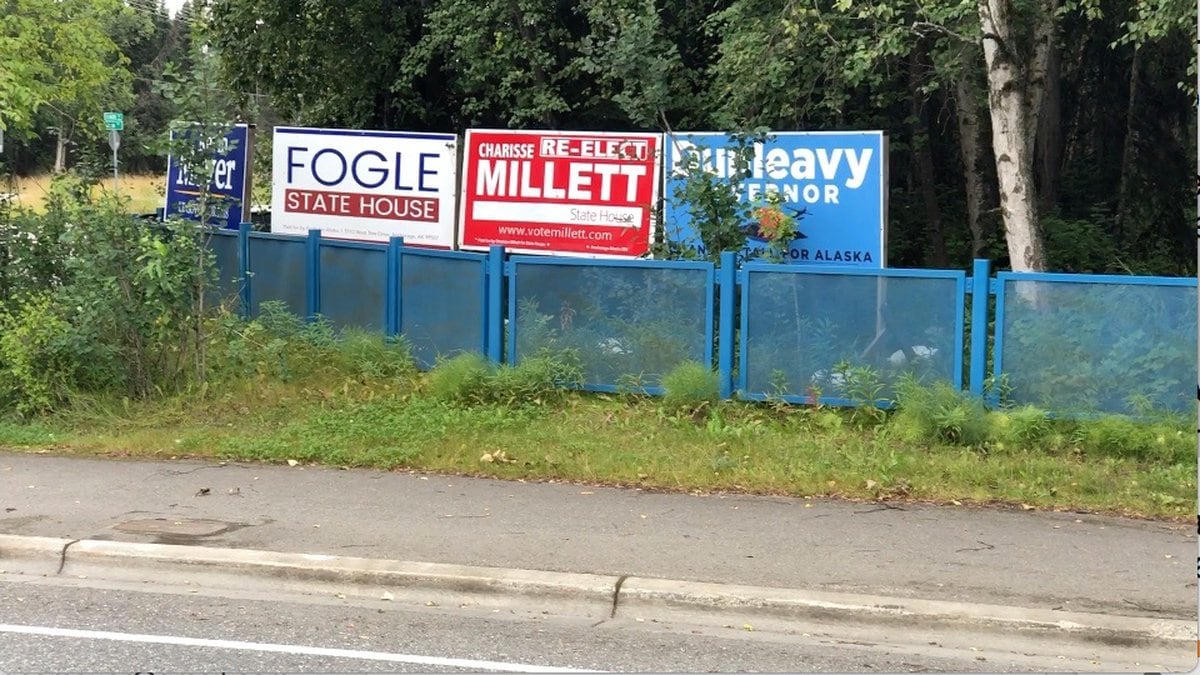 Published: Sep. 5, 2018 at 7:49 PM AKDT
The judge in the First Amendment free-speech case involving political signs said Wednesday he would rule soon on the first round of orders sought by ACLU Alaska and two other plaintiffs.
The ACLU, the independent political organization Dunleavy for Alaska, and Eric Siebels, a Palmer resident with a big sign supporting Dunleavy, said the state transportation department should only be allowed to remove political signs that are dangerous for drivers. Otherwise, they said, state law banning signs on or near the public right of way is a violation of the U.S. Constitution's Bill of Rights and the state constitution's free-speech clause.
"Political speech is a special category of free speech that is entitled to heightened protection as there is no right more fundamental in a democracy than the right of a citizen to express his or her political views without fear of censure or sanction by the government," the lawsuit said.
And even though the state says Siebels was perfectly in his rights to erect a Dunleavy sign on his property — he doesn't live near a state highway — attorney Peter Scully, representing the plaintiffs, said a letter threatening people who erected illegal signs with criminal prosecution had a "chilling effect" on Siebels' free speech.
Nonsense, replied Mike Schechter, a trial attorney in the Department of Law, who argued the state's case Wednesday. Schechter said an assertion like Siebels' would be akin to making a suggestion himself that capital gains taxes impose a terrible personal burden — only to realize that he didn't own stocks that could yield a capital gain.
Superior Court Judge Herman Walker had sharp questions for both sides in the case. He didn't set a date for when he would issue his ruling, but attorneys said they expected it within 30 days.
In their complaint, ACLU Alaska and the other plaintiffs asked for a temporary restraining order and a preliminary injunction against the sign law — two closely related pre-trial orders. They also asked that the state be permanently barred from enforcing the popular anti-billboard law, passed overwhelmingly by Alaska voters in a 1998 initiative.
Scully said arguments against the billboard law could wait till later.
"We're not advocating for billboards," Scully said. "I think the court can enter an injunction that limits the effect of the injunction to small political signs."
In its written arguments, the state said it wouldn't object to a "narrow" preliminary injunction that only prevented the state from going after signs on private property. It suggested that a "small sign" could be eight feet wide and four feet high.
Such a sign would still be smaller than a billboard, banned by voters two decades ago. The law banning all signs in or near the state right of way emerged from that initiative.
"The citizens of Alaska are entitled to have this court uphold their legal antipathy for outdoor advertising as expressed in the adoption of the 1998 ballot initiative by over 70 percent of the voters," the state said. "Plaintiffs request this relief under the pretext that their ability to communicate using political campaign signs has been hampered by state enforcement, but Dunleavy for Alaska has distributed over 1,000 signs throughout the state that are visible on seemingly every corner, and Eric Siebels claims to be afraid of enforcement despite living on a road this is not subject to the state's Outdoor Advertising Law."
In an interview after the hearing, ACLU spokesman Casey Reynolds said that the state's willingness to allow signs on private property safely away from a road is only part of what the plaintiffs want.
"The question is whether private property inside the right of way should be allowed to have political speech," Reynolds said. That could mean allowing signs adjacent to a state highway — and within the legal right of way.
But if state workers have to try to determine the ownership of a right of way, it could lead to chaos because the legal issues can be cloudy, Schechter said.
Alaska is the clear owner of some rights of way, he said, but others were conveyed as easements over private property decades ago by the federal government — sometimes on old documents to the territory of Alaska. It would be better if maintenance workers can keep all land adjacent to highways sign-free, he said.
The led to an assertion of nonsense by the ACLU side. Reynolds said all property owners would know if they own a right of way or only border one.