Man charged for attacking sex offenders greeted as a hero by some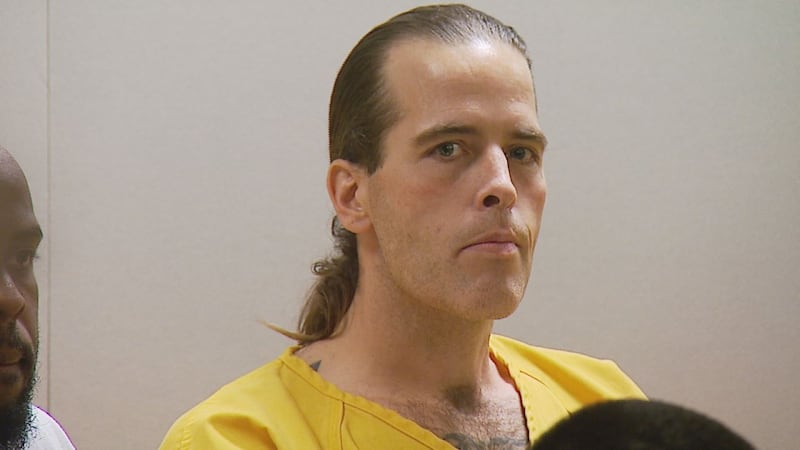 Published: Aug. 3, 2016 at 11:55 AM AKDT
It's not often that someone handcuffed, in shackles, and facing a Superior Court judge on felony assault and robbery charges is greeted as a hero. But Jason Vukovich was last week, at least by some from a distance.
Little about the case against him is ordinary.
The 41-year-old is accused of using
to find his alleged victims, three men previously convicted of sex offenses ranging from possession of child pornography to attempted sex abuse of a minor. All three served prison terms but were still required to report their home and work addresses.
Prosecutors claim, over a five-day stretch in June, that Vukovich tracked the men down at their homes and used a hammer to threaten, assault, and rob them.
After his arrest, the defendant
to
saying he had been physically and sexually abused as a child and described himself as an "avenging angel."
Some who read the initial story and subsequent news coverage have reacted with condemnation, saying he was a vigilante acting outside the law, deserving a lengthy jail term for attacking people who already served time for their crimes. But many more said things like this: "You are my hero." ... "Give the man an award. If there is a child molester, that individual should be shot and killed." ... "You'll get much respect inside for sure, and on the outside when you're done."
Officials including state lawmakers, victim advocates, and civil liberties leaders say they find the reaction alarming but unsurprising given societal condemnation of sex crimes even in comparison with other violent crimes.
In part because of the wave of attacks against sex offenders, there is a renewed push to review the registry itself, to consider downsides and to question whether or not it accomplishes its main goal: reducing recidivism among sex offenders by letting people know the whereabouts of people convicted of sex crimes.
Debate over the effectiveness of the registry dates at least several years. In 2008, the topic was discussed in the spring edition of the Alaska Justice Forum.
The Alaska Sex Offender Registration Act came into existence in 1994 in response to brutal crimes against children that prompted a national outcry, including Megan Kanka, a 7-year-old New Jersey girl raped and killed by a man who previously sexually assaulted two other young girls.
"The state Legislature's findings were premised on testimony reflecting the commonly held belief that sex offenders as a class are different from other offenders—that they will inevitably reoffend and that they are not receptive to treatment," Deborah Periman wrote of the policy in her article. "The Legislature did not attempt to distinguish among types of offenders or to evaluate which offenders were most likely to repeat their crimes. Instead, it simply divided all offenders into two groups, aggravated and non-aggravated offenders."
Under Alaska's system, an 18-year-old who has consensual sex with a 14-year-old faces the same registration requirements as someone convicted of a violent rape and murder: 15 years on the list after getting out of prison.
That means someone convicted of sexually abusing a young child would have the same terms after getting out of jail as someone convicted of second-degree indecent exposure in front of someone younger than 16.
The across-the-board approach is relatively uncommon nationally, according to the 2008 article.
While the law came into existence years before nearly everyone had access to a computer and high-speed internet, another relatively unique feature of Alaska's law is that all sex offenders must be published online in the same format.
Periman suggests a key reason behind the law may be flawed: "The myth of the incorrigible sex offender, all but guaranteed to reoffend, has been largely refuted," she wrote. "A study by the Alaska Justice Statistical Analysis Center of sex offenders released from Alaska corrections facilities in 2001 found that non-sex offenders were more likely to be rearrested than sex offenders."
The Alaska Civil Liberties Union also sees shortcomings in the current registry system: "A problem of this list is that it can lead to vigilante behavior like (Vukovich) allegedly did," said executive director Joshua Decker, adding that it "inhibits the ability of people who have already served their time from reintegrating back into society and becoming productive members of society."
Decker in an interview Tuesday said the tight housing restrictions and limitations on employment that come with being a sex offender make people likelier to end up isolated, out of the close watch of authorities, and in trouble again. He believes the effectiveness of the registry needs to be reviewed as state lawmakers continue to discuss criminal justice reform, an issue that received much attention this year. S.B. 91, a sweeping bill that at the core attempts to pare back lengthy jail terms in favor of more rehabilitation programs, became law after contentious debate.
On the other hand, "perhaps people should think about that before they become sexual predators and harm children," says Keeley Olson, executive director of Standing Together Against Rape. "Law-abiding citizens have a right to know. If I know a sex offender lives next door to me and see kids going into that backyard, that's a red flag."
In an interview Tuesday, Olson said the registry should stay intact and that she believes sex offenders are far likelier to re-offend than other violent criminals. People who sexually abuse children typically have many victims before being caught in part because young kids may have difficulty processing the abuse or fears of speaking out, Olson said.
Robyn Langlie, executive director of Victims for Justice, agrees that the registry should stay intact and believes there is a bigger question for policymakers to answer.
"The key is, do we have programs available?" Langlie said in an interview. "Do we have sex offender programs that are available and working? Whether in prison or out. And do we have mental health professionals that are able to help people, as well as substance and drug abuse programs. I think all those things are lacking."
Diminishing availability of state grants for mental health services and substance abuse treatment providers as the state responds to a multi-billion dollar budget deficit only exacerbates the problem of getting sex offenders and others treatment they need, Langlie said.
Rep. Liz Vazquez, R-Anchorage, a former state prosecutor, said discussion about the registry's effectiveness is overdue.
"We'll have to re-visit the sex registry. It appears to me, there's a time and place where you do want to have a registry like this, especially if you had a child in your home," she said. "Do we have to have everyone on this registry? It's a question mark."
And Vazquez agrees the question of funding programs aimed at reducing recidivism is key.
"Are we devoting enough resources to the type of rehabilitation program that's effective," she says. "You can throw money at programs, but are they effective?"