NTSB officials share new information about fatal Metlakatla floatplane crash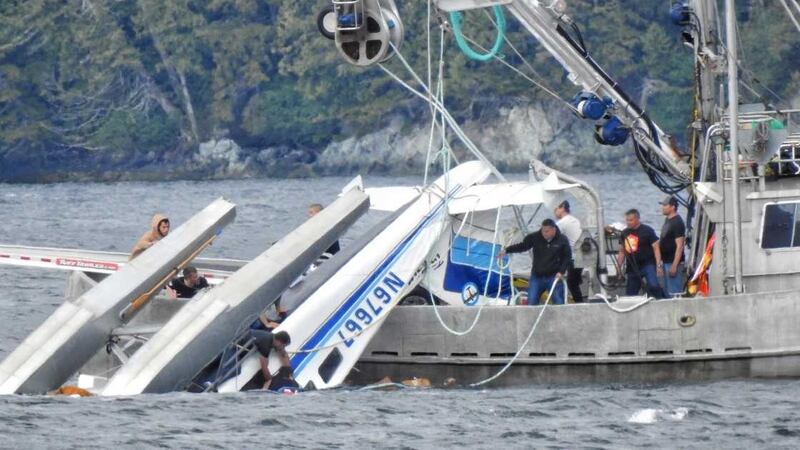 Published: May. 21, 2019 at 3:17 PM AKDT
National Transportation Safety Board officials appeared in a press conference Tuesday afternoon following the fatal floatplane crash that killed two in Metlakatla on Monday.
"There were lots of players involved in the rescue attempt," said Clint Johnson of the NTSB. About an hour-and a-half after the crash, the two deaths were confirmed, he said.
Johnson also said an NTSB investigator has met with the top management of Taquan Air, the company that owned the plane involved. The investigator then headed straight to the scene to begin on-site research. She is in the process of interviewing witnesses.
"Witnesses watched the airplane landing to the west," Johnson said, "and there was a wind - about 10 knots - and sometime during the touchdown, a float got caught. The aircraft then cartwheeled and landed inverted. It eventually came to rest upside down.
"The folks who saw the incident are shaken up," Johnson said.
The right wing was severed in the crash and is missing at this point, but other wreckage has been accounted for; a barge is in Metlakatla to take the plane back to Ketchikan, where most of the detailed documentation will take place. The investigative team will also be meeting with top management personnel, looking at qualifications and others to figure out why the flight may have gone down.
After the agency immediately launched the primary investigation into the crash - as required by law - it also launched a secondary investigation into Taquan Air after the fatal crash in Metlakatla, which happened just a week after a plane operated by the same company was involved in a mid-air collision that killed six near Ketchikan.
NTSB officials launched an investigation into Taquan Air over that fatal flight, as well. The investigations are all being done separately, according to agency officials. All are "very much in the early stages," the NTSB said before Tuesday's press conference.
Preliminary reports are expected to be released in the next few days.