Oil tax initiative could head to the ballot this year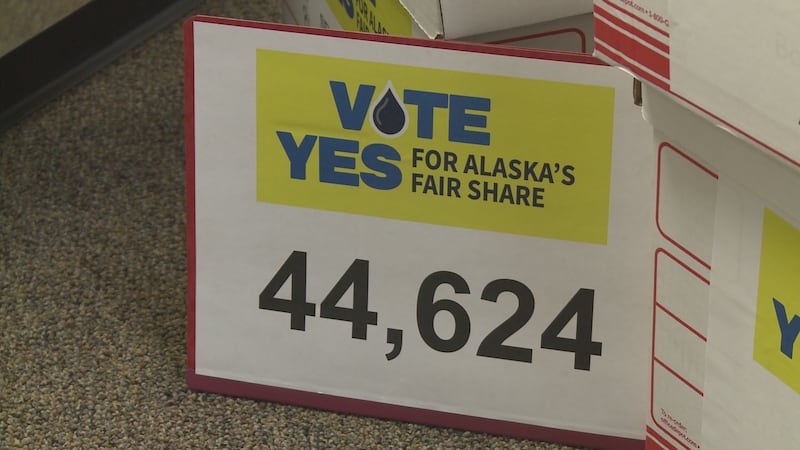 Published: Feb. 28, 2020 at 10:24 PM AKST
a ballot initiative that would raise oil taxes on the state's three biggest fields, is one step closer to going on the ballot.
"The initiative that's proposing to change the oil and gas production tax for certain fields has surpassed the 10% requirement of the number of voters who voted in the preceding election," said Division of Elections Director Gail Fenumiai.
Supporters of the initiative turned in 44,624 signatures in January to the Division of Elections, now over 30,000 of those signatures have been verified, passing the 28,501 requirement. The signatures also come from 37 of the state's 40 house districts, passing the second requirement.
The next step for the bill is at the Lt. Governor's desk.
"We will continue processing the remaining books, and once that is complete, we will send the information to the Lt. Governor, who will review it and make his certification decision," Fenumiai said.
If the Lt. Governor certifies the initiative, the only thing that could knock it off the ballot would be if the legislature were to pass a "substantially similar" bill.
lawmakers questioned the Department of Law over what would constitute a substantially similar bill. Assistant Attorney General Cori Mills said The Department of Law would only provide advice to lawmakers if its bill met the "substantially similar" provision after the legislation was signed by the governor.
Supporters of the Fair Share Act have said they would welcome a substantially similar bill.
"If they pass a bill that was similar to this, then the initiative would be constitutionally knocked off the ballot," said former state legislator Les Gara, a supporter of the Fair Share Act. "But that would be fine."
If the initiative does pass through the Lt. Governor's office and the legislature, it would go on to the ballot after this year's session comes to a close.
"A legislative session has to convene, and then adjourn, and then a period of 120 days has to expire until it can appear on a ballot," Fenumiai said.
If the legislature were to adjourn by April 19, the initiative could end up in the August primary. Otherwise, it's likely to show up in the general election.
Copyright 2020 KTUU. All rights reserved.