One of Anchorage's largest illegal camps gets an abatement notice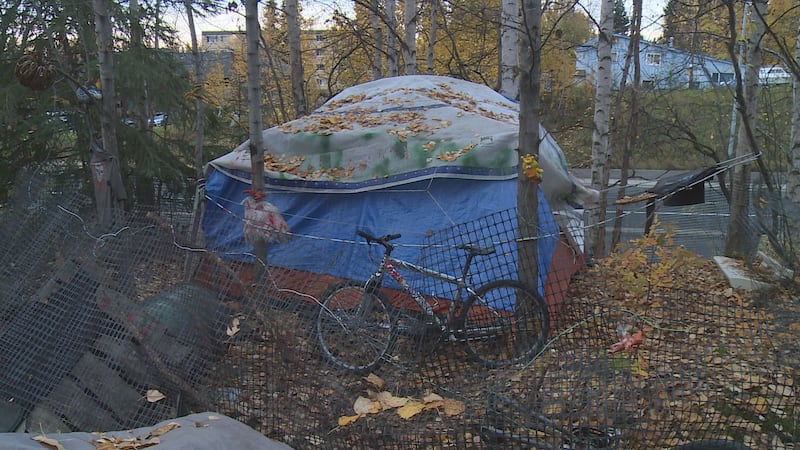 Published: Apr. 17, 2019 at 4:06 PM AKDT
One of the largest illegal camps in the city got an abatement notice last week.
About a dozen tents are set up along the Chester Creek trail where the notice was issued on the 11th.
Large propane tanks and tents are visible from the trail and people can be seen walking back and forth between makeshift homes to visit.
"Like I said, it's like the Lost City of Atlantis," Pamela Hildebrandt, who says she's been camping illegally for three years, said.
Hildebrandt and fellow camper Amber Plahs say they can understand why homeowners and park users are upset by the illegal camping, especially among fears of possible fires and health issues.
"I think it's probably because of that right there," she said pointing to a pile of trash. "You know, prime example, if people cleaned up after themselves, respected it more, it probably wouldn't be an issue, you know, but a lot of people just don't care. They throw their trash wherever."
A citizens' group that works with the assembly updated its plan to curb the issue.
In a Citizens' 12 Point Plan Update Memo, the group outlined the seven issues it thinks the city still needs to address.
"The community is extremely frustrated with the lack of proactive preventive monitoring of our public spaces. Because there is no proactive patrol or monitoring of our public spaces, encampments have been allowed to establish into full-blown compounds that generate enormous health and safety consequences in our parks and cause irreparable harm to them," Stephanie Rhoades and Russ Webb wrote.
They listed several examples:
1. Widespread use of fire-making equipment
2. Large scale use and number of propane tanks in camps
3. Rotting garbage and other hazardous materials (needles, medications, etc.)
4. The newly-found fact of fecal pollution of Chester Creek.
The plan requests that Parks and Rec and the Anchorage Police Department be assigned to make the trails safer and patrol off the trails as well as the areas surrounding the trails.
"I can understand the frustration of the community about how slow this process is going," Assemblyman Felix Rivera said. "Unfortunately I think we'd be able to be at a much faster process if the alcohol tax had passed because we would be able to have the resources to do all of these things that the community has asked us to do, but because it didn't pass we don't have the resources."
Rivera says he's working on an ordinance to address the threat of fires.
He says it would allow someone, like a police officer or another official, to be able to seize items like propane tanks found in illegal campsites.
"Getting rid of all the different things that create fires in camps," Rivera said, "which could potentially lead to some dangerous situations."
Plahs says she'll be moving out before the city comes to clean up the homeless city.
"Hopefully I'll be moving into an apartment," Plahs said.