Track Palin wants to be in Anchorage Veterans Court, not criminal court in Palmer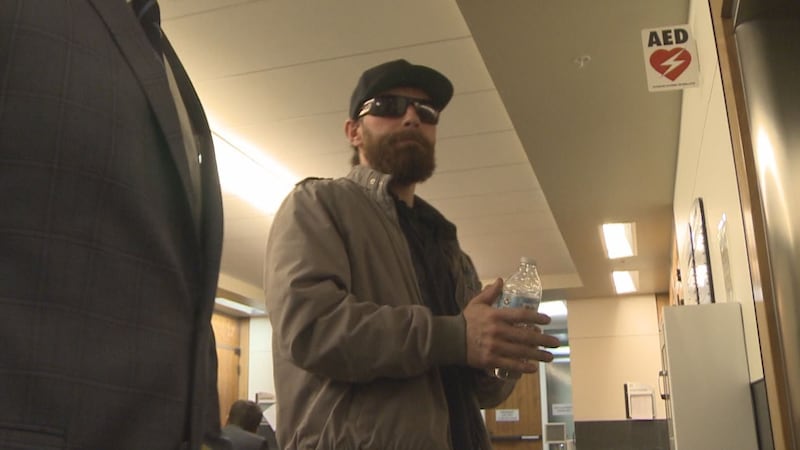 Published: May. 29, 2018 at 3:56 PM AKDT
Track Palin, indicted over a fracas in the Wasilla home of his parents — former Alaska Gov. Sarah Palin and husband Todd — asked Tuesday to have his felony criminal case transferred to Anchorage Veterans Court, where therapy and not punishment is the main consequence for bad behavior.
Track Palin, 29, was arrested after his mother called Wasilla police to the family home on Lucile Lake on Dec. 16. Sarah Palin was reporting a domestic disturbance: a confrontation between Track and Todd.
A Wasilla police officer said in a sworn statement that Track used his fists to bloody his father's face after his father thought about stopping him with a gun, then wouldn't fire on his son. Track Palin told the officer he disarmed his father.
The officer said Sarah Palin told dispatchers that Track was "freaking out and was on some kind of medication." Todd Palin told the officer that Track had also been drinking.
Track Palin pleaded not guilty to a felony break-in charge after the confrontation.
In the Anchorage veterans courtroom Tuesday, where Track initially was attending as an observer, not a potential defendant, Track had a thick dark beard and was wearing a ballcap and a light jacket. He put on dark sunglasses when he left the courtroom and faced television cameras.
Palin declined to comment to reporters on his way to the courthouse elevator. His attorney, Patrick Bergt, a son of another famous Alaskan, aviation businessman Neil Bergt, said Palin would seek to have his case transferred from Superior Court in Palmer. Bergt declined to say whether Palin would agree to a guilty or no contest plea, usually a precondition of veterans court.
Palin served in Iraq with the U.S. Army, assigned to the armored Stryker brigade based in Fairbanks.
Veterans in the courtroom suffered from post traumatic stress or some other injury. One obviously distraught former soldier, who brought a service dog into the courtroom, had to rush afterward to get anti-seizure medication from the VA.
The vets reported their past week's activities to the presiding judge, state district court judge David Wallace, an appointee of Sarah Palin.
Several of the vets said their mental states were improving — and they were happy to be getting out of their homes. One said he was watching trails, another was playing basketball, and a third said she loved her garden. She got into a long conversation with Wallace about the hardiness of nasturtiums.
When Wallace spoke to Palin, he sought an assurance that Palin wanted to be there.
"This is what you want to do?" Wallace asked.
"Yes sir," said Palin.
To other questions, Wallace told Palin to answer with his voice, not to shake his head yes or no. The reason wasn't the media, Wallace told him, but the official recording system in the courtroom.
Last week, Bergt filed an emergency order to ban reporters and news cameras from Wallace's courtroom, and Wallace agreed to part of the ban. KTUU and two other media outlets hired Anchorage attorney John McKay to fight the exclusion. McKay told Wallace he would respond before the end of this week. In the meantime, reporters remained in the courtroom, but video cameras stayed in the hall.
"The right of access to courts has been recognized for many years as a fundamental constitutional right under the First Amendment," McKay told reporters outside the courtroom. "The right of access for camera coverage or audio coverage has never been recognized. The U.S. Supreme Court hasn't squarely dealt with that."