Palmer company's cleaning machine deployed to Navy flightdecks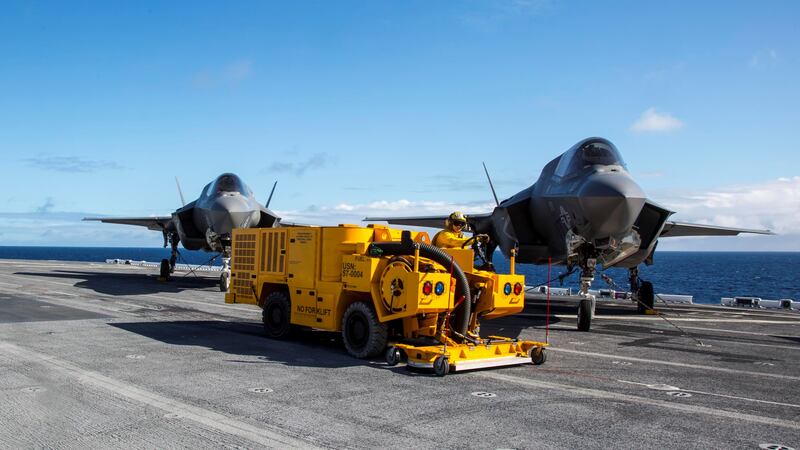 Published: Feb. 15, 2019 at 8:03 PM AKST
Technology pioneered in an Anchorage garage and produced in Palmer is making its way onto Navy aircraft carriers.
Since the early 2000s, Triverus has been working on a machine that efficiently cleans flight decks and removes everything from grease and oil to debris.
"That can get sucked into jet engines and destroy planes awfully quickly, so what the Navy does right now is what's called a FOD walk where they just send sailors out to one end of the carrier and they literally walk multiple times a day and just stare at the flight deck and pick things up," Triverus manufacturing manager Nathan Green said.
The current methods used to clean flight decks inhibit the Navy's ability to respond immediately when aircraft need to be deployed.
"They either have to shove the planes all to one side of the ship or park them in hangar bay or a combination of both, but the bottom line is, it reduces the ship's readiness in order to do this maintenance," said Matthew Hakin, a Navy veteran now working as an engineer at Triverus.
Triverus won a contract from the Navy to build 43 mobile recycling cleaning systems. Each machine costs $850,000.
It works by using pressurized water, magnets and a vacuum to remove debris from the flight deck. The debris is then filtered out and the water recycled.
The machine is built in modules so that it can be easily repaired while onboard the ship. The engine can be changed in 15 minutes without needing skilled labor and does not require high skill to operate.