Pregnant in prison: What happens to a baby born in prison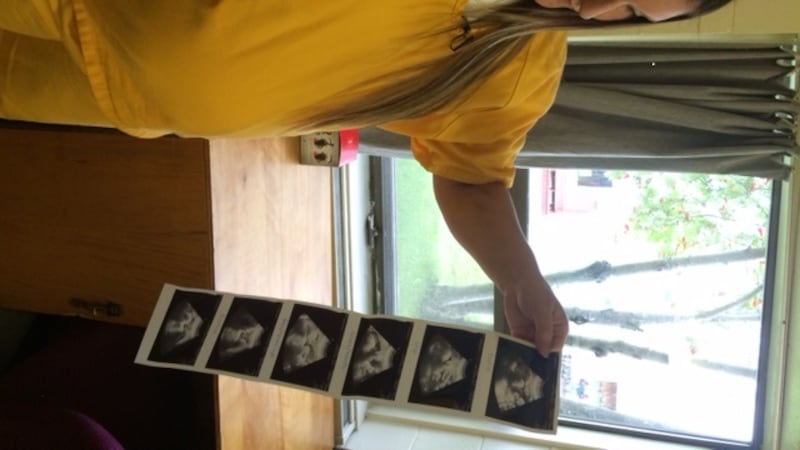 Published: Oct. 27, 2016 at 3:19 PM AKDT
Nickelle Reagle went back to prison, again, in the spring. This time for possession.
She had been in and out of jail for drugs, mainly meth and heroin, she says, for much of her adult life and knew the routine. But this time, while being processed to begin 25 months behind bars, she realized the nausea she had been feeling wasn't the flu. It was morning sickness.
She was starting her two-year prison sentence while pregnant. Her boyfriend wouldn't be able to help, Reagle knew. He had drug problems too, and was already serving time in another prison. As she walked past the other women at Hiland, wearing her bright orange inmate jumpsuit and her mind crowded with the thoughts and fears of a new mother, she faced the same question as thousands of women across the United States each year. What happens to a baby born in prison? As the inmate population in the United States has grown, the number of children with a parent in custody has risen to nearly 3 million kids over the past four decades, a federal study found. Of the 380 women serving time this month at Hiland, only 10 didn't have children, social workers say.
Four of the women at Hiland in October, including Reagle, were pregnant.
Most women who give birth while incarcerated have to hand over their baby to a family member or friends. If no one can help, then the baby goes to the Office of Children's Services. In some states there's been a push to create prison nurseries that allow women to keep their newborn children with them, behind bars, where they can stay with their mothers until the child is 18 months or 2-years-old. Eight states have prison nurseries with another one being built in Wyoming.
According to Karla Hicks, a social worker with the Department of Corrections at Hiland, a prison nursery at Hiland could possibly reduce the recidivism rate of women prisoners and reduce the number of children born to inmates who then grow up and commit crimes.
"Any dollar that we can spend to keep a child out of the system would benefit society as a whole," Hicks said. "And if we look around, youth crimes have increased because those kids don't belong."
Inside the barbed-wire enclosure of Hiland Mountain Correctional Facility, a women's prison about 15 minutes away from Alaska's largest city, Hicks and Reagle sat for a series of interviews about life in prison for women with young children, pregnant women and women whose teenaged daughters now serve their own sentences here alongside their mothers. Hiland is in Eagle River, on a campus that looks more like a mountain retreat than a facility that can hold up to 400 prisoners including murderers and gang members.
Hicks and Reagle sat in a room for children who visit the prison to see their mothers. There are rows of dolls and stuffed animals, piles of books, and a mural on the wall of the mountains, a lake and a soaring eagle. Beside the mural is a wooden crib and horseshoe shaped nursing pillows with patterns of flowers and polka dots.
"I don't know any pregnant woman that would want to be here," Reagle said. Hicks says that once a prisoner has her baby the pair can be together for two days, at the hospital, and then the woman is sent back to prison.
"They're sad," Hicks said. "I see a lot of tears immediately when they come back. I'm the first person that sees them, after medical, so I have them start journals, writing letters to their babies."
Hicks says the newborns are able to be with their mothers at Hiland for an hour a day, as long as the child's custodian brings them in, which she says, rarely happens. Woman also can't pump to provide their babies with breast milk because the prison can't keep bodily fluids stored there.
Reagle says most women don't talk about their children here. Some, she says, she didn't know had children.
"It's more of a sore subject," Reagle said. "I don't bring it up, necessarily, because a lot of woman, of course, are very torn that they're not with their kids and some take it very hard."
Hicks says a unit that allows babies and mothers to be together during a sentence could cut down on mothers coming back to Hiland and stop a cycle of incarceration in families.
"I think the baby's being punished even more so than the mother is," Hicks said. "Because where does that child get that bond, that association, to know who's going to care for them if we keep bouncing them around?"
Both women acknowledge there is little sympathy for prisoners and that by virtue of them being in jail it raises questions about their parenting.
"Ultimately it depends on your life outside of here," Reagle said. "If being in jail is the best place to keep you from using it's the best place to be if you're pregnant."
The Department of Corrections can't give a recidivism rate for a specific prisons because people transfer from one facility to another too frequently to get an accurate picture. But, calculated by gender, in 2013, which is the most recent information available, 63.1 percent of women felons were arrested again or back in prison.
It's also difficult to get an accurate picture for how much a pregnant woman costs the system. According to DOT, it varies considerably. If a woman doesn't deliver while in custody it may not cost anything other than in-house prenatal care. But, if it's a high risk pregnancy or a delivery with complications it may be tens of thousands of dollars. DOC says so far in 2016, the department has spent $164,000 on pregnancy related services. This number includes prenatal care and delivery services for 33 inmates
"Most of the women we have here are under five years," Hicks said. "If we could have a unit that moms could be with their babies for two years it would be great for them. I think it would be encouraging to them to even focus on a different path in life."