Proposal to foster patriotism in Anchorage schools brings tears and heated exchanges, but no vote by school board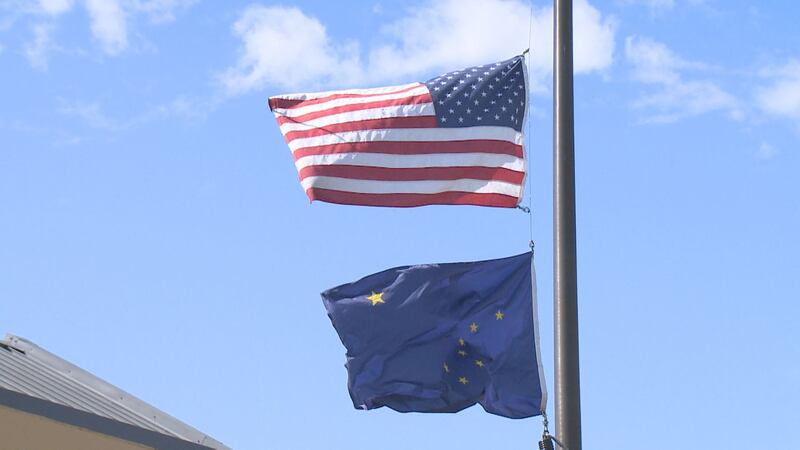 Published: Mar. 4, 2019 at 11:51 PM AKST
The Anchorage School Board considered a proposal Monday night to require schools to play the state and national anthems at the beginning of every week.
The memorandum, proposed by board member Dave Donley, states that participating in the National Anthem provides time during the week for staff and students to honor the United States and the history of its people.
Donley says parents contacted him concerned over a lack of patriotic observances in schools, so he set out to reinvigorate pride in state and country in Anchorage schools.
"We spend a lot of time, rightfully so, recognizing the diversity in our community, recognizing the changes that are happening in our country," Donley said. "I think we also need to not give up the things that make us Americans, the foundations of our country's greatness."
The National Anthem would be played at the beginning of the school day on the first school day of every week, followed immediately after with the playing of the Alaska State Flag Song.
Retired veteran Don Jones, who spent 27 years in the U.S. Air Force, testified at the meeting in favor of the memorandum.
"I think adding the National Anthem and our flag song once a week would add to the culture for our youth, and understanding of what it is to be a citizen," Jones said.
Michael Chambers wasn't going to testify on the issue, he said, until his church convinced him to do so. He served in Vietnam, and was also a school teacher at Delta Junction.
"I'm extremely excited because you're talking about my two favorite subjects: my love for America, and my love for Alaska," Chambers said. "We not only transfer knowledge to our children, but we also transfer what it means to be an American, and what our common heritage is."
Andy Holleman recently left the classroom to sit on the school board. He says patriotic activities are already being done at schools. His concern is teachers will view this as the district micromanaging teacher schedules by mandating schools participate in the playing of the anthems.
"I want patriotism, and I want an understanding of these songs to come across to every student in the district," Holleman said. "If we take ten minutes a week to make it happen in a rote way, I'm worried it will push aside a lot more of the meaningful things that a lot of teachers do with their students when they talk about it."
Alaska Education Association President Tom Klaameyer was one of a minority who testified against the proposal. "I don't see this as a necessary thing in schools," he said. "And in fact, as a veteran and a teacher, I think we get much more in developing our students' citizenship by developing their critical thinking, by developing their sense of choice, and by protecting their freedom in doing so."
After over an hour of public testimony, mostly in favor of the proposal, and some heated and tearful exchanges between board members on whether to postpone the voting until a later date, the board voted 4 to 3 to refer the item back to the Governance Committee where they will continue discussion around the controversial topic.