Rescued from ice cave, man tells his story to warn others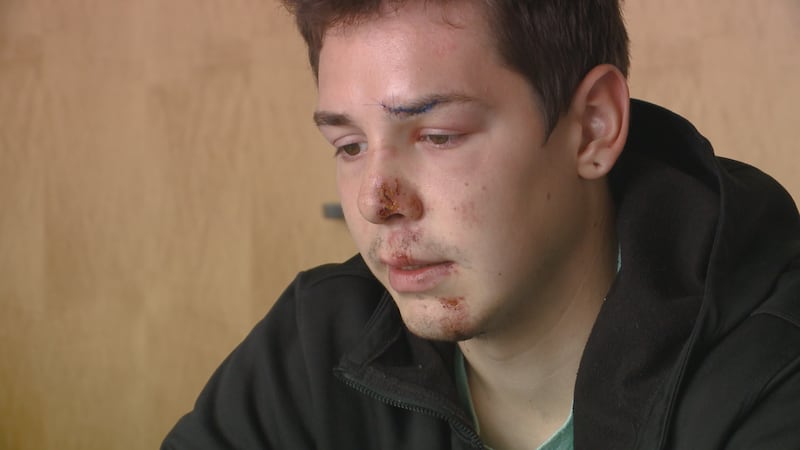 Published: Jul. 11, 2016 at 9:25 PM AKDT
What was supposed to be a day of hiking with family took a deadly turn on Saturday when an ice cave near Portage collapsed on top of a 21-year-old man, trapping him inside.
Jacob James, his father Larry and his girlfriend Jacey Jackson were visiting an ice cave near the Portage Valley RV campground. The cave looked like a perfect photo opportunity for the young couple, so the three headed up the steep mountain to get a closer look.
"Larry was behind me and I was behind Jacob just a few feet and he just entered the ice cave and Larry was going to take a picture of us out in front of it," Jacey told Channel 2 on Monday afternoon.
Larry was getting ready to take a picture when he warned his son to not get too close to the cave.
"I didn't say it loud enough," said Larry.
Jacey said she heard a loud 'boom' as the cave collapsed and Jacob disappeared underneath the heavy ice.
"One second I'm standing there and the next second I'm in a hole," said Jacob. "My leg is pressed against my chest and I'm bleeding profusely out of my face so I was pretty terrified, easily the scariest moment of my life."
Larry and Jacey immediately began digging through the ice, searching desperately for a sign that Jacob was still alive.
"I watched it all come down on his head, I watched it crumble his body, I watched him get smashed flat and I thought I saw my son get buried," said Larry. "I did see my son get buried."
"When he wasn't responding to our screams I thought about walking down the mountain because I didn't want to be the one to dig his body out," Larry said, wiping away tears.
After a few minutes, Jacob started to yell. That's when they knew they still had a chance to save him.
Jacey says about 15 good Samaritans arrived to help dig Jacob out, while others offered clothing to keep him warm. Jacob said a woman, whose name he doesn't remember, even took the clothes off her back and held him to keep him warm until the Girdwood Fire Department arrived.
"There were a lot of people that showed up and helped and it was amazing," said Jacob. "It really put a lot of faith in humanity in my eyes."
Jacob sustained three broken ribs and a broken nose. One of his teeth was knocked out while another was pushed back. He received 20 stitches on his forehead and five staples on the back of his head. Despite the injuries, he's expected to return home from an Anchorage hospital on Tuesday.
"He's still handsome," Jacey said while laughing. "I'm really thankful he's here, I fell more and more in love with him after this incident."
"That's my baby," said Larry. "It's every parent's worst nightmare. You always want to protect your children, you always want to protect your babies."
Jacob and his family haven't been able to personally thank everyone that helped save Jacob that day but they'd like the chance to someday.
"I really appreciate everybody's help, because without it, I don't think I'd be here today," said Jacob.
The U.S. Forest Service recommends only exploring ice caves with a licensed guide, especially in warmer temperatures, which cause the caves to melt faster and collapse more quickly.