Rural Cap program puts elders in the classroom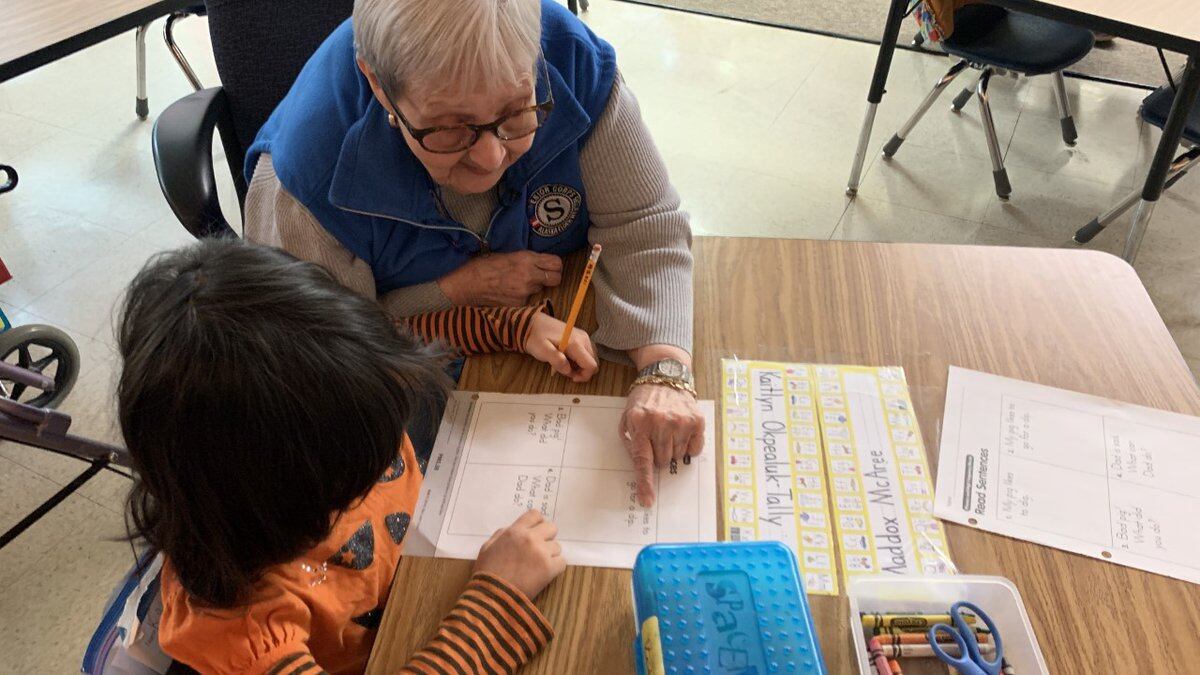 Published: Jan. 16, 2020 at 9:54 AM AKST
Most everyone at Alaska Native Cultural Charter School knows who you're talking about when you say "Grandma Rosemary."
She's an 88-year old elder mentor with Rural Cap's Elder Mentor Program. You can catch her smiling and making her way down the hallway 5 days a week, ready to tackle the day. She's been a volunteer with the program for 7 years and doesn't plan on hanging up her helper hat anytime soon.
"That means I have a whole day with people. Talking to children, talking to teachers, parents when they come in. We have a nice time, she said.
Grandma Rosemary enjoys being around people. She's one of about 60 volunteers with the program. She's been at the same school, different classrooms, but doesn't miss a day.
"What do I get out of it? I'm 88 and I'm here and I'm up and at em because when you get up and get out of the house is when you're going to end up with more years," she said.
Elders work with kids who might need a little extra help in the classroom. Help that Grandma Rosemary said goes a long way.
"With a smile and a hand and just trying to draw them out. You talk to them you let them tell you things too," she explained.
So, why elders? Program Coordinator Ted Irvin said having elders in the classroom is important because students feel like they can develop a level of trust.
"They're not necessarily an authority figure and they open up, they share a lot of what's going on their struggles with elders," said Irvin.
"The love they give, you give back," added Grandma Rosemary.
Not to mention the cultural connection, especially for the sites in rural Alaska.
"It's a cultural connection, trying to keep a lot of their cultural heritage, their language, some of their values and cultural practices alive," said Irvin.
So, the next time you wander the halls at Alaska Native Cultural Charter School in Anchorage, be on the lookout for "Grandma Rosemary." She'll be the one listening, advising and perhaps even hugging that next generation of young students.
"They all lined up so they could give me a hug in the morning. It's a wonderful feeling," she said.
The age cut off is 55 and older and volunteers are asked to commit to at least 5 hours a week. Some elders may also be eligible for a stipend and meal and mileage reimbursement.
to apply online and to learn more.
Copyright 2020 KTUU. All rights reserved.