Several firefighters injured in 'ash pits' fighting Deshka Landing and McKinley fires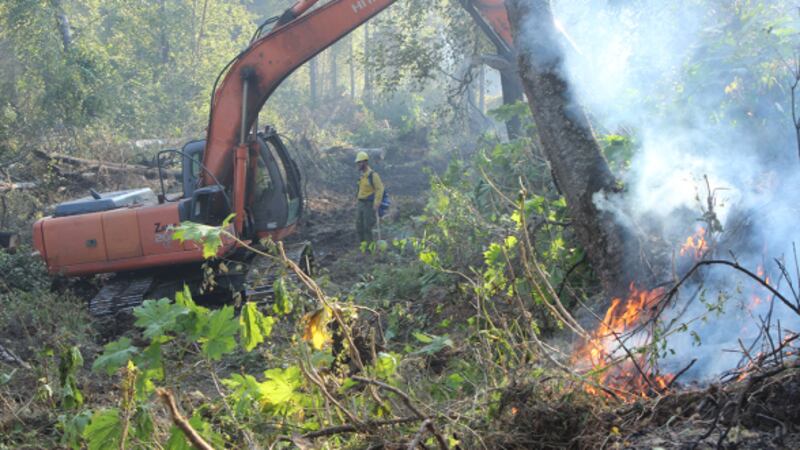 Published: Aug. 25, 2019 at 3:07 PM AKDT
Several firefighters have been injured falling into "ash pits" fighting the Deshka Landing and McKinley fires.
"Firefighter safety is a concern, not only from falling trees, but the extremely dry conditions," said firefighting officials. "Burned areas of vegetation are creating "ash pits" which result when tree roots burn deep into the ground."
Firefighters have reported minor burns from accidentally falling into the pits, officials say. "These ash pits are often difficult for firefighters to see and pose a hazard."
Officials also report that the temporary flight restriction designated by the Federal Aviation Administration over the Red Shirt Lake area was violated on Saturday by private aircraft.
Crews are said to be making good progress extinguishing hot spots fighting the Deshka Landing fire. Firefighters are working around the northern perimeter of the fire conducting mop-up operations.
The southern area of the fire is more hazardous for firefighters with extremely heavy brush and fallen trees.
"Structure protection efforts are nearing completion in the Red Shirt Lake area," read a report from multiple federal and state agencies. "Structures approximately three miles from the fire's southern boundary have been prepped by removing vegetation and setting up pumps and hoses."
Sunday is the first day for hunting in the fire area. The game management area and state lands have been closed to the public.
As of Sunday morning,
Copyright 2019 KTUU. All rights reserved.