Southcentral Foundation's family gathering has Chopped style cooking competition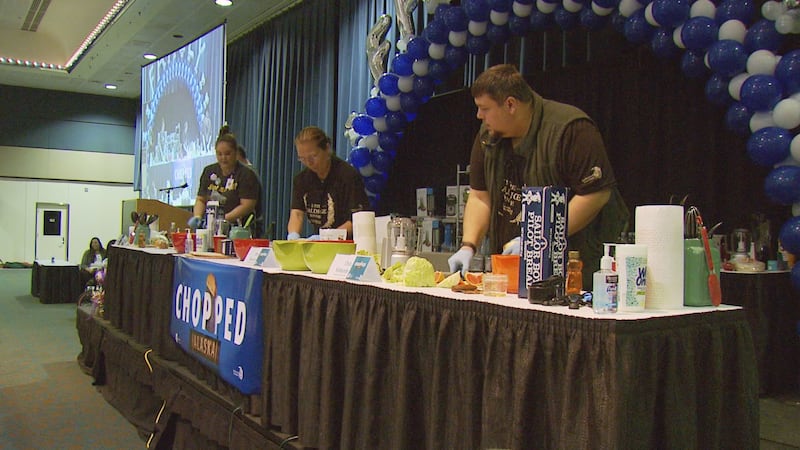 Published: Jan. 27, 2018 at 9:15 PM AKST
The Southcentral Foundation hosted its 21st annual gathering Saturday afternoon celebrating family, health and wellness. The event featured an Alaska Native cooking competition in the style of Chopped, with local celebrity Irene Bedard acting as a judge.
Ileen Sylvester, the vice president of executive and tribal affairs, said around 2-3,000 people were expected to attend the celebration of family. Sylvester described that "we're kind of in the dark season after the holidays" and the foundation wanted to create an event where families could come together to have fun.
There was Alaska Native art on display as well as the Southeast Dancers holding a performance. Sylvester explained the gathering started with a goal to promote organ donation among Alaska Natives which was uncommon at the time. The event expanded to today where over 150 partnerships are held with the Southcentral Foundation.
Anchorage-born Irene Bedard was back in Alaska for the event and to visit family. Bedard, who was the voice of Pocahontas from the Disney film of the same name, said she had a long history with the foundation. She worked in resource development as a special assistant with the family warriors wellness initiative and the suicide prevention program.
The Chopped style cooking competition would see Alaska Native meals pitted against one another, Bedard says she was most looking forward to eating some salmon.
Bedard told Channel 2 there are number of projects she is working on at the moment including a sequel to the animated film "Wreck it Ralph" that sees her again play the character of Pocahontas.