Special Assembly meeting scheduled for final Cannabaska ruling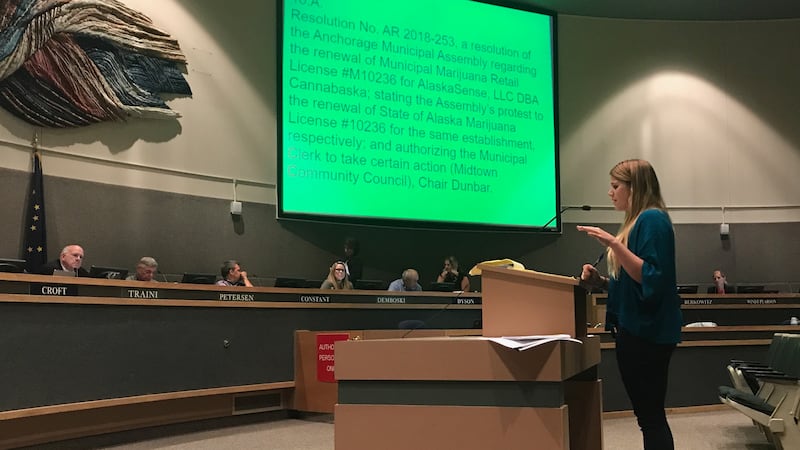 Published: Sep. 11, 2018 at 10:35 PM AKDT
Cannabaska, the marijuana shop owned by AlaskaSense, LLC that's been under scrutiny since the muni filed a formal complaint in June, addressed the Anchorage Assembly at the regular meeting Tuesday.
The Marijuana Control Board returned the owner's handlers permit in early August, allowing the business to start selling despite ongoing allegations.
Tuesday was an opportunity for the assembly to make sure Cannabaska has been complying with its orders since the original complaint.
A muni inspection in February found that the business had allegedly failed to render waste from marijuana cultivation unusable before leaving the facility, leading to detectable marijuana odors.
Cannabaska was ordered to ventilate the premises by Wednesday, September 12. The muni will conduct an inspection on the premises Wednesday to ensure they are complying with odor regulations.
The business' attorney Jana Weltzin asked the assembly to allow her client to continue conducting business.
"This licensee has admitted her mistakes over and over and over again," said Weltzin. "She's come to you and she's asked for your forgiveness, and for your ability to give her one more chance to make it right."
Weltzin says AlaskaSense, LLC paid a $15,000 fine for being late on taxes, as well as a $20,000 fine to the State of Alaska for a refusal of inspection, along with other fees.
The assembly stated tonight it will hold a special meeting this Friday, September 14, to determine its final ruling.