Study links orcas to dwindling size of "large" Chinook salmon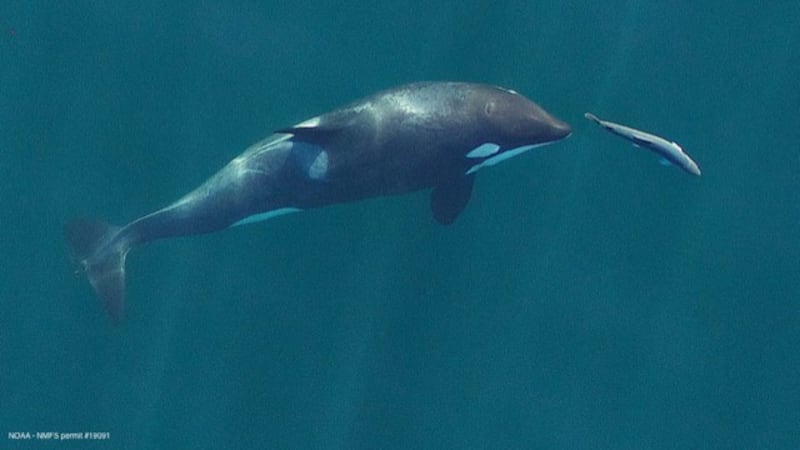 Published: Jan. 3, 2020 at 1:44 PM AKST
According to the Alaska Department of Fish and Game, with some exceptions, Chinook salmon runs across the state have been well below the long term average, particularly with large adult salmon.
Researchers think they have at least one explanation as to why this is happening – fish-eating killer whales with a particular taste for kings.
A
, co-authored by the National Oceanic and Atmospheric Administration and the University of Washington, suggests that rising orca populations are in part responsible for the disappearance of large Chinook salmon along the west coast of North America.
"Recent recoveries of marine mammal populations worldwide have heightened concerns for their potential impacts on global fisheries," the article reads. "We find that widespread declines in the body size of Chinook salmon over the past 50 years can be explained by intensified predation by growing populations of resident killer whales that selectively feed on large Chinook salmon."
Data suggests the overall body length of Chinook salmon decreased by at least 9% between 1971 and 2009. Research findings suggest continued predation will lead to further decline in the average size of large kings.
Researchers acknowledge these findings introduce a potential conflict between salmon fisheries management and marine mammal conservation efforts. They say rebuilding fisheries has historically been used as a tool to help protect marine mammals, but findings suggest this practice will not be sustainable in fisheries experiencing declining size.
"It is thus important to acknowledge trade-offs between conservation and benefits to fisheries when determining management goals," the article reads.
Alaska king salmon fisheries have seen strict management to help the population rebound. In 2018, runs improved for several stocks across the state, while ADF&G closed certain areas like the Kenai River for part of the year.
ADF&G says they only manage salmon once they arrive in-river, and it's assumed that many fish are preyed upon before they reach that point.
"While this paper appears to have useful modelling techniques and may spur further research, we are still in a situation of managing for the population sizes that return each year," ADF&G Yukon Area Manager Holly Carroll said.
According to researchers, orcas along the West Coast consume more than 2.5 million adult king salmon per year – and orca populations are increasing. Alaska, for example, has a "resident orca population" of around 2,300 individuals, according to researchers.
Researchers acknowledge this is not a smoking gun, and there are likely other issues at play impacting the size of Chinook salmon. One of the article's authors, University of Washington research scientist Jan Ohlberger, says knowing how kings are impacted by predation should help inform fishery managers.
"Obviously, managers don't have control over a lot of these factors, which includes abundances of killer whales coast-wide," Ohlberger said, "but it also means that whatever you do locally may be buffered through these ecosystem-wide effects that we see."
Copyright KTUU 2020. All rights reserved.