Endangered Frontier: The people of ice and snow face a future without it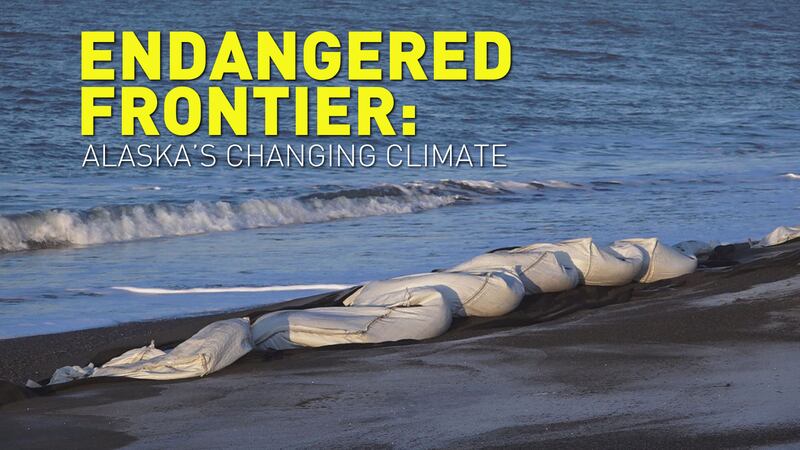 Published: Oct. 22, 2019 at 10:53 AM AKDT
Part 2 of our series on climate change. Read Part 1 here.
The ice off the coast of Alaska has made a dramatic change in the last 30 years and the people in Utqiaġvik have witnessed it first hand.
"We're the people of the ice and snow," says Charles Hopson, president of the Barrow Whaling Captains Association. "There's no ice. There's hardly any snow."
The changes to the sea ice have been remarkable and swift. Many Alaskans remember when the three gray whales became trapped in the Arctic ice. That was in early October 1988.
Billy Adams, 54, lifelong resident of Utqiaġvik, was a young man when the whales got trapped and was one of the people who responded. "The ice formed this thick in about five days —" He moves his hands about 12 inches apart. "And you could drive a truck over the ice at that time."
A rescue of bowhead whales near Utqiagvik in Oct. 1988 (Image from KTUU Archives)
Thirty-one years later, there's open water off the coast of Alaska's northernmost community and the sea ice is still 400 miles away from the shore.
Adams who also works for the North Slope Borough Department of Wildlife Management, described the dramatic change that kept sneaking up on residents:
Late 80s and somewhere in the early 90s, we started seeing a big change. One of the biggest changes we saw early in August, September, we had over 90 bears that came ashore. We thought it was a one-year thing or two-year thing. Then you know in the mid-90s, we thought there's a little bit less ice. We noticed it happening year to year so we made some changes in our hunting times, that we have to prepare to go earlier. After that we thought it was the new normal. We got all comfortable with that and we were able to harvest the things we wanted to harvest. Then up until 2013, 14, we see that we were not having the platform out here. The ice was getting thinner and things were not safe and now... October 25, I was out two miles out in the ocean hunting. That was in 1996, then after that it progressed and progressed, and now today, in the last few years it's been ice free.
The sun dips below the horizon above the ice-free water of Utqiagvik in October, 2019.
Frances JakyLou Olemaun, 21, is a Subsistence Research Specialist with the North Slope Borough and has lived in Utqiaġvik for all her life. She's seen the changes.
"I remember it started off when I was in middle school and that was when springtime the ice would break up early," says Olemaun.
"The seasons are different," says Scott Huntsman, a subsistence hunter and Utqiaġvik resident. "Springtime doesn't come when it normally comes and fall time doesn't come when it normally comes. It's like it's twisted little bit."
Hunting is woven into the lives of the people in northern Alaska—from cultural to the practical aspects.
"They don't have the luxury or they don't have the opportunity up to go to the store and get some produce or meat," says Olemaun. "Because sometimes it's not available. Sometimes it's just too expensive so I think that's one really reliable resource that we have is our subsistence foods."
This is whale season and the sea ice helps calm the waves, making it safer for the whalers.
"The migration of the whales this year is very, very late," says Adams. "It's about three weeks late. We started whaling here on the 21st of September but we haven't landed a whale yet because of a lot of rough ocean and the whales are just not here yet. They've spotted a few but not enough actually land a whale here in Barrow."
They say the whales are staying farther east near Kaktovik, but know the whales will arrive eventually.
"It's whale season right now so when they make strikes we'll still get our muktuk," says Huntsman. "Everybody shares. One thing we don't do is argue about food that's one of the least arguments we've ever had at our table. We share with everybody."
A polar bear walks along the ice-free coast of Alaska's North Slope. Like the Inupiaq, polar bears have traditionally relied on sea ice for hunting. (Image from KTUU Archives)
But it's more than just putting food on the table.
"Our culture is based on our hunting," Hopson, 76, says. "Our culture is going to disappear if there's no ice, no whaling. We can't even go out anymore. We are the most impacted people on the ice. There's no ice. We can't whale anymore. There's no celebration, no nothing."
As the environment around them changes, the people of Alaska's North say they will change as well.
"I think they've been adapting for many, many years now," says Adams. "And they're going to find ways to provide food for the elders that are still here, for their families and friends and they know that the animals are very healthy they're very abundant."
But Olemaun is optimistic that whatever happens, the Inupiaq will adapt.
"I think as Alaska's Native people, we have adapted to everything around us so I think that that's just how it's been and I think that whatever changes I think will be able to adapt that."
Copyright 2019 KTUU. All rights reserved.