Namesake Navy ship USS Anchorage departs for NASA mission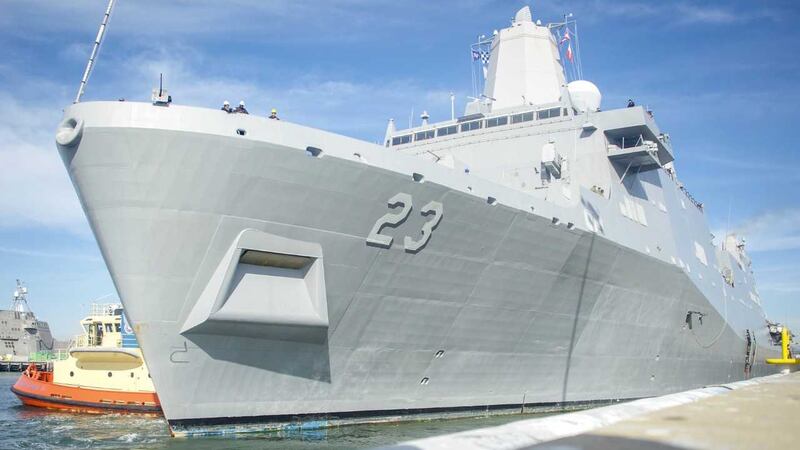 Published: Jan. 18, 2018 at 9:31 AM AKST
The USS Anchorage, a U.S. Navy namesake ship named after Alaska's largest city, departed the San Diego naval base as part of a National Aeronautics and Space Administration mission Wednesday.
The ship and its crew will conduct an Underway Recovery Test, or URT, in conjunction with NASA out in open ocean waters. The mission was set up as part of a federal effort to practice and evaluate recovery processes, procedures, hardware and personnel.
An amphibious transport dock ship, USS Anchorage is one of the United States' warships that "embark, transport and land elements of a landing force for a variety of expeditionary warfare missions," according to the U.S. Navy. Checking in at around 685 feet long, the ship is propelled by a 41,600-shaft horsepower system.
Navy and NASA crew members are set to work alongside each other during night- and daytime recovery trainings on the ship in order to manage how a specific capsule under the latter is brought in and safely stored. The mission marks the fourth joint URT operation with NASA, with both teams contributing to improve operations ahead of the Orion capsule's return to Earth in December 2019.
NASA's Orion spacecraft, first test launched in December of 2014 and then subsequently
will serve as the exploration vehicle that will carry crew to space, provide emergency abort capability, sustain a crew during the space travel, and provide safe re-entry from deep space return velocities. It was "built to take humans farther than they've ever gone before," according to NASA.
The spacecraft's main objective is Exploration Mission-1, an uncrewed flight, "whose successful completion will pave the way for subsequent crewed missions and enable future missions to the moon, Mars, and beyond," according to a U.S. Navy statement.
A mock capsule, roughly the same size, shape and center or gravity as NASA's Orion module, will be utilized for the URT of which the USS Anchorage is a part.
NASA team members have long said they hope to have Orion be the first to help take human explorers to Mars.
Below, an animation created by NASA of Orion's first exploration mission. The USS Anchorage's role will primarily be upon Orion's water landing, as seen at the end of the video.