VIDEO: Bear cub approaches runners during Gold Nugget Triathlon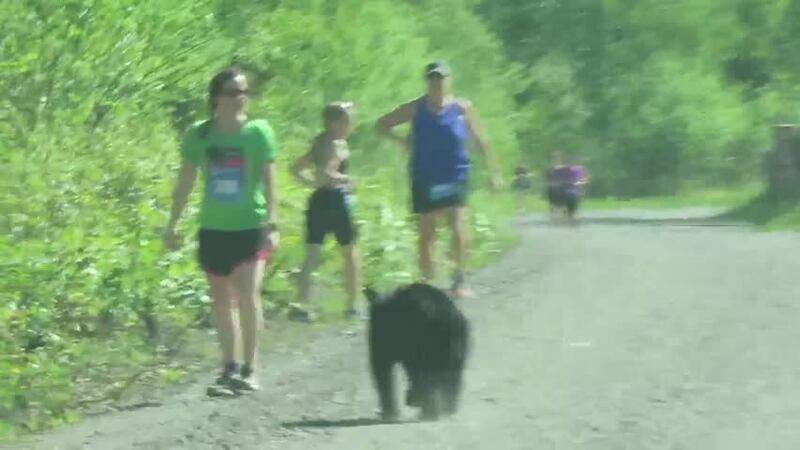 Published: May. 18, 2016 at 1:39 PM AKDT
Gold Nugget Triathlon racers have come to expect a wildlife sighting or two along the 16-mile course that traces the edges of Anchorage. But one race organizer said she can't remember a bear cub -- with mama nearby -- coming within sniffing distance of a runner before.
On Sunday, volunteer George Stransky filmed the encounter shown above. The clip begins with what appears to be a mother black bear and two cubs crossing the running path, near the golf course off of Arctic Valley Road.
One of the cubs takes a detour toward a surprisingly calm runner.
"We were going to give her an award for handling herself so nicely," said Gold Nugget board president Lia Keller.
State wildlife biologist Dave Battle called the animal's behavior "concerning."
"That could be an indication the bear has been fed by humans in the past," Battle wrote in an email.
There are no precise counts of black bears in the game management unit that includes Anchorage and Chugach State Park. Fish and Game estimates some 250 to 350 bears might be in the region based on habitat.
Keller said the encounter ended peacefully.
This year marks the 34th running of the popular swim-bike-run triathlon, with about 1,500 women finishing the race. Organizers might look for new tactics, such as playing more music along the route, in hopes of shooing bears from the area in the future, Keller said.
"There was no affect on the race," she said. "We did send out an extra car with bear spray to monitor the situation in case anything happened."