WATCH: Kathleen Henry's portrait is added to 'The Kuspuk Project.'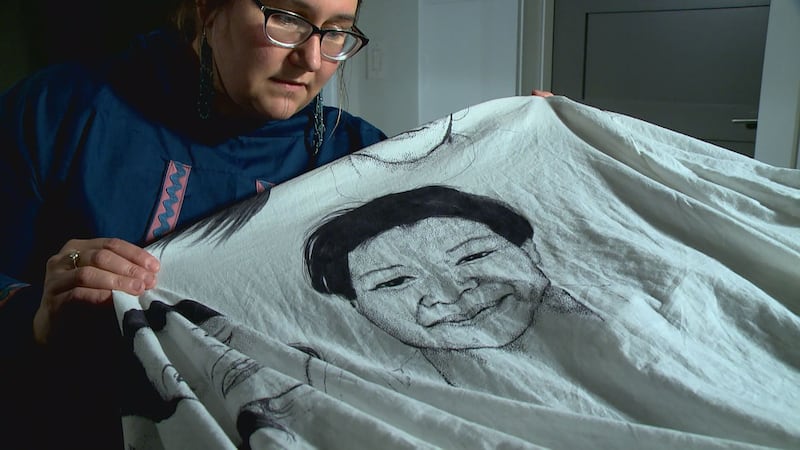 Published: Nov. 7, 2019 at 6:58 PM AKST
Artist Amber Webb lives in Dillingham and her Yup'ik upbringing is reflected in much of her work, but she never thought it would receive the amount of attention that has been directed at one of her latest creations.
The Kuspuk Project is a one-of-a-kind canvas, an oversize, hand-sewn garment. The piece is covered in the faces of more than 100 women, all Indigenous and each one, either missing or murdered between 1965 and 2019 that made a central appearance at the recent Alaska Federation of Natives Convention.
Webb's work is being funded through a grant from the Rasmuson Foundation, which purchased her first kuspuk, a much smaller version of the current project. The larger kuspuk will feature over 200 faces upon completion. Webb says the purpose is to memorialize each woman as she was in life.
Some of the more familiar faces are those of now-closed cold case victim Sophie Sergei, 10-year-old Ashley Johnson Barr of Kotzebue and most recently, Kathleen Henry, one of two women now believed to have been killed by Brian Smith.
The bizarre details surrounding Henry's death, a murder caught on camera, have drawn national attention but Webb says it is just another example of countless cases in which Native women have been targeted.
"There are cases that get a lot more attention than others, but none of these women are any more important than any other one of them," she said. "I really hope that her case brings more answers for some of the other people that are still missing."
Copyright 2019 KTUU. All rights reserved.