UPDATE: New ANWR legislation passes by vote of 13-10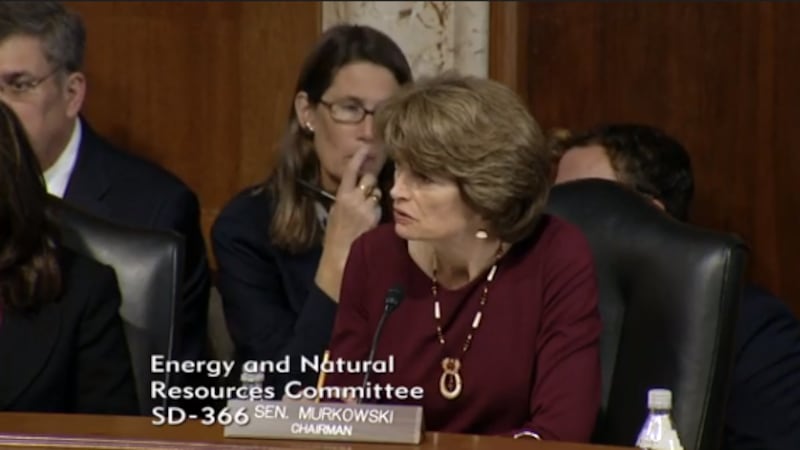 Published: Nov. 15, 2017 at 6:54 AM AKST
Following spirited discussion on both sides of the issue, a vote was called at the Energy and Natural Resources committee hearing, regarding new legislation proposed by Sen. Murkowski.
By a vote of 13 in favor and 10 opposed, the legislation passed out of the committee just after 8 a.m. AST.
Senators and legal experts once again traded fire early Wednesday on a critical topic to Alaska, the potential opening for drilling of the Arctic National Wildlife Refuge, also known as ANWR.
The live stream of those proceedings can be
The business meeting, led by chairman Sen. Lisa Murkowski, was held to consider the chairman's mark, new legislation which would outline and redefine some of the purposes and uses of the so-called "non-wilderness" section of ANWR, also known as the "1002 Area."
In the meeting, Sen. Murkowski's mark was challenged repeatedly by ranking member Sen. Maria Elaine Cantwell, D-WA, who took issue with the purpose of Murkowski's mark, and the way in which it was written.
"I am amazed that people want to throw away such an unbelievable ecological jewel of our planet. I don't even just mean our nation, I mean our planet," Cantwell said. "We think that it's a critical habitat that should be protected and that it is not consistent with oil and gas development."
In the mark, which comprises pieces of "reconciliation legislation," Murkowski establishes that "The Secretary shall establish and administer a competitive oil and gas program for the leasing, development, production, and transportation of oil and gas in and from the Coastal Plain."
Sen. Mazie Keiko Hirono, D-HI, took issue with this language.
"I am looking at the plain language of your mark, and the plain language says that the secretary 'shall,' and this is an instance where 'shall' means shall, it does not mean 'may,' the secretary of the interior shall allow these leases to occur regardless of an EIS, NEPA, anything," Hirono said. "So I think the plain language of this mark is what prevails, and sadly I look at that and what you have said and your reassurances do not comport with the actual language of your mark."
While Hirono and others argued that what Murkowski was saying did not necessarily align with how her mark was written, especially in regards to NEPA, Murkowski said that the overall message is the same.
"I don't think that there is anyone that seeks to destroy the caribou," Murkowski later said in response to criticism of her mark. "For many of us, we believe that [ANWR] is one of the best places that we can go for responsible development, and we should have done this some time ago."