This week to be the warmest of the year ... so far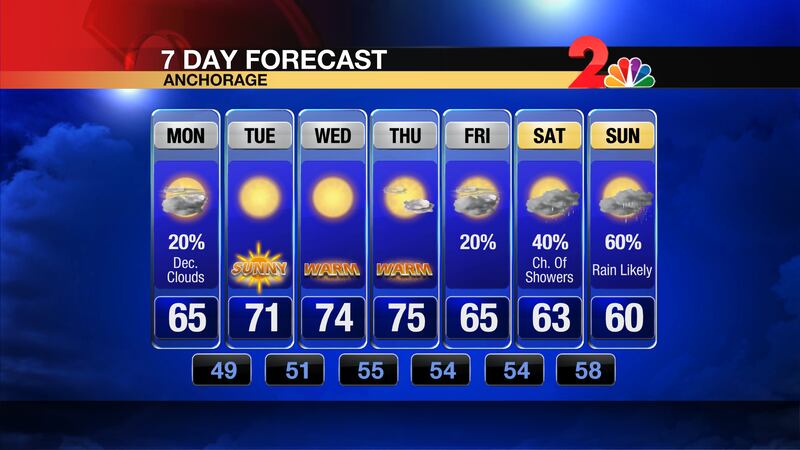 Published: Jun. 12, 2016 at 6:25 PM AKDT
It's already been a record warm Spring. This week, Southcentral will see its warmest temperatures yet this year. The change begins on Monday. High pressure builds in from the south and the west. Most locations in the Southcentral area will start the week with mostly cloudy skies. Clearing will move in Monday afternoon/evening from the south. High temperatures will bounce from the mid-50s/low 60s on Sunday to mid to upper 60s on Monday.
From the western Kenai Peninsula through the Matanuska and Susitna Valleys, temperatures will be warmer still on Tuesday. By Wednesday and Thursday, look for highs in the mid-70s to lower 80s with the warmest temperatures in inland areas, particularly near Talkeetna.
With the warm temperatures and dry conditions, the fire danger risk also rises. Elevated winds on Tuesday, and possibly Wednesday, could increase fire danger.
Areas around Prince William Sound and the eastern Kenai Peninsula won't see quite the dramatic temperature rise, though Valdez will see highs in the upper 60s for Wednesday and Thursday.
Meteorological Spring ended June 1st. This year Alaska experienced the warmest spring in 92 years of record keeping. The average temperature across the state for the months of March, April, and May was 32F degrees. That's 8F degrees above the average. For the Cook Inlet region, the average temperature was 37.2F degrees, which is 7.5F degrees warmer than the average.