Alaskans give U.S. Men first place relay finish at World Juniors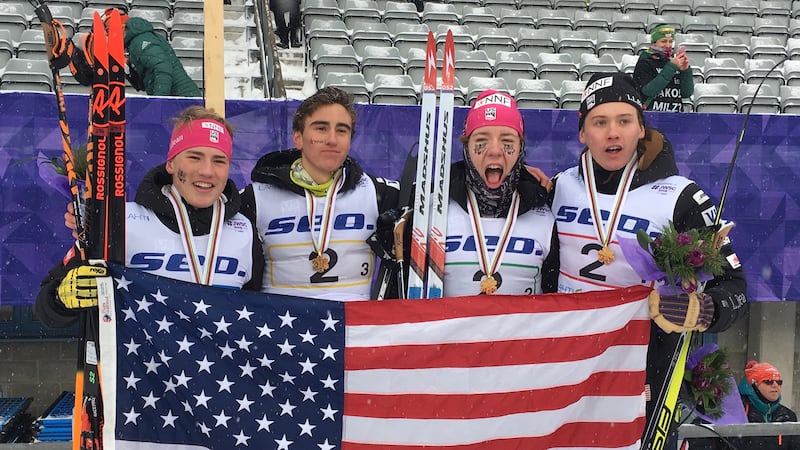 Published: Jan. 26, 2019 at 8:20 AM AKST
The U.S. men's ski team made history today in Lahti, Finland winning the 4 x 5-kilometer relay at the 2019 World Junior Ski Championships. The American team was made up of half Alaskans as Alaska Pacific Univeristy's Luke Jager skied the first leg, Ben Ogden (Vermont) skied the second leg, Johnny Hagnebuch (Idaho) took the third leg, and Alaska Winter Stars Gus Schumacher skied the anchor leg.
The U.S. squad won in a time of 45:34.7 minutes, and beat second-place Russia by 3.8 seconds. This is the first gold medal at World Juniors ever for the U.S. men, and second straight podium finish for Jager and Schumacher who took silver in the same event at last year's World Juniors.
"It's really satisfying to be among the best here," wrote Schumacher over text message Saturday.
Schumacher has been among the world's best with two top ten finishes individually at the World Juniors, and Jager has posted two top 25 finishes of his own.
"There's always that unknown with how your training, and preparation are going," wrote Schumacher. "Too see that you're doing the right thing is super validating."
In the women's 4 x 3.3-kilometer race the U.S. just missed the podium taking fourth, and crossed the finish line 36:05.2 minutes. Fairbanks Kendall Kramer skied the second lap for the Americans.