Channel 2 News veteran journalist Steve Mac Donald to retire on December 2nd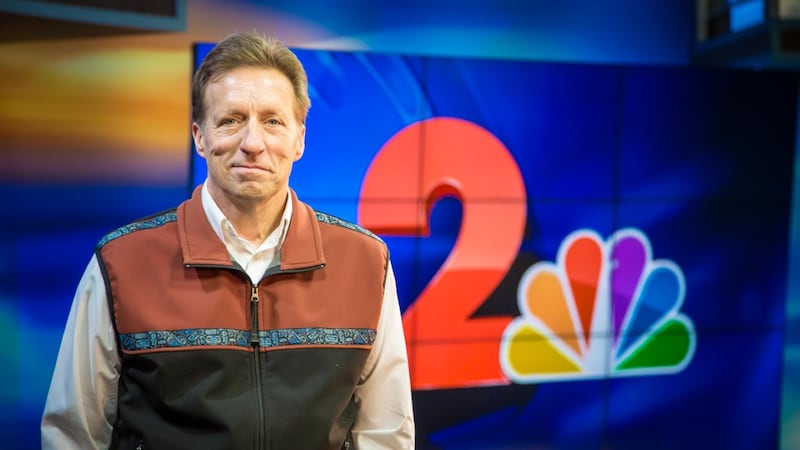 Published: Nov. 2, 2016 at 7:13 AM AKDT
November 2, 2016
KTUU-TV today announces that longtime Channel 2 News reporter/anchor Steve Mac Donald is set to retire in December of this year. Mac Donald began his career at KTUU-TV in September of 1996 as a general assignment reporter and later served as assistant news director, news director and special projects manager. Mac Donald's distinguished career coincides with the rise of Channel 2 News as Alaska's most-watched news source. His work has earned countless local and regional awards, including two Regional Edward R. Murrow awards for documentaries he wrote and produced. Mac Donald is known for his civic and political reporting, often leading the Channel 2 News coverage of state elections and moderating candidate debates.
"This probably sounds very corny," says Mac Donald, "but I believe journalism isn't a job, it's a kind of calling. It attracts a special breed of people who dig for stories, ask tough questions, and then strive to tell a story at the end of the day that's compelling, accurate, fair and informative to viewers." Throughout his career, Mac Donald has helped define the Channel 2 brand of storytelling, combining in-depth reporting with crisp writing and rich visuals. Never one to shy away from important statewide topics, Mac Donald has reported on some of the most significant events in Alaska's recent history. Notably, Mac Donald led Channel 2's coverage of Lisa Murkowski's historic write-in Senate victory in 2010 and produced unparalleled in-depth reporting on Alaska's suicide epidemic in 2012, which culminated in the one-hour special on KTUU, "A Night of Hope." Mac Donald spent more than three years charting the journey of the so-called Fairbanks Four, deftly reporting their claims of innocence from inside jail, and carefully following the court proceedings that led to their release from prison in 2015. Mac Donald's reporting on the Fairbanks Four, which he considers among his most important work, resulted in daily news coverage and two documentaries. Other memorable work includes Mac Donald's coverage of Maggie the Elephant's relocation from the Alaska Zoo to California, a one-hour special report on the history of Denali National Park and his reporting on NHL hockey player Scotty Gomez's first Stanley Cup homecoming. Throughout his career, Mac Donald has also been a dedicated member of his community, volunteering his time for Children's Miracle Network, Covenant House and many others.
"If I've been successful in any way," Mac Donald said, "I hope it's because I've tried to empathize with our viewers to understand what information they might want or need from a story. I've also tried very hard to tell both sides of the story and let viewers make up their own minds about how they feel about the issues facing Alaska. There is no better place in the world to be journalist than Alaska."
Channel 2 news director Tracy Sabo attributes Mac Donald's success to his unwavering commitment to the craft of storytelling and journalism. "Steve's natural talent as a conversational writer and storyteller combined with his passion for Alaska is evident to anyone who has witnessed his work," said Sabo. "Steve is a compassionate journalist, yet ever-focused on his role as an independent reporter. He is deeply driven to hold those in power accountable, to shine a light on topics rarely addressed, to give underrepresented Alaskans a voice, and above all, he always takes the time to listen."
Even in retirement, Mac Donald will remain available to KTUU for fill-in work and special projects. Prior to his time at KTUU-TV, Mac Donald served as a reporter and news director at KTVA-TV. Mac Donald's last day with KTUU-TV is December 2nd. The entire Channel 2 family thanks Steve for his leadership, dedication and professionalism throughout the years. Here's to enjoying your free time, Steve, may you spend it with family, out exploring Alaska and cheering on your beloved Cleveland sports teams!
Tracy Sabo, News Director KTUU-TV 762-9270 tsabo@ktuu.com
Brad Hillwig, Marketing Director KTUU-TV 762-9203 bhillwig@ktuu.com
KTUU-TV's early beginnings date back to 1953. Over the ensuing decades, the station has built a reputation of excellence as Alaska's most watched news source, producing 19.5-hours of news and sports content each week on television. Online, KTUU.com has become a digital news leader, and Channel 2's mobile News and Weather applications are on the leading edge of mobile journalism in Alaska. Nielsen Media research shows that Channel 2 News products reach more than 80-percent of the adults who watch local news in a week, and more than 85-percent of those viewers watch Channel 2 News exclusively. That strong reach and brand loyalty are augmented by added distribution to the state's capital and more than 244 rural communities throughout Alaska. KTUU-TV also operates KYES, Channel 5 and the Justice Network, Channel 2.2.