Equipment upgrade brings more television channels to Kenai Peninsula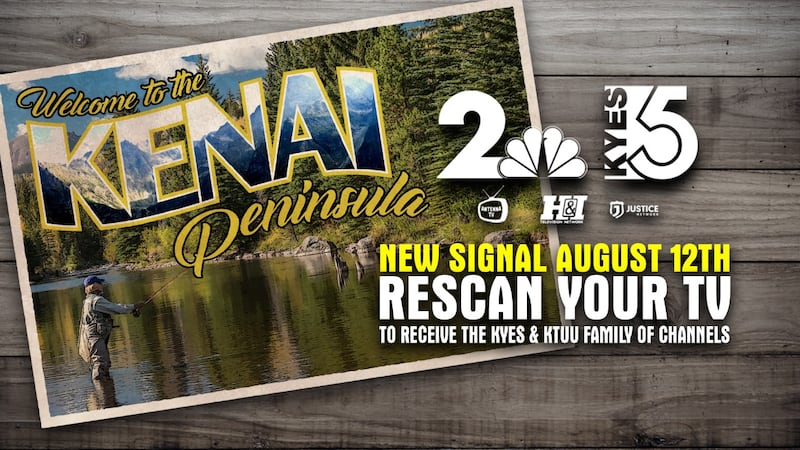 Published: Aug. 12, 2019 at 8:51 AM AKDT
The addition of a new transmitter now allows Gray Television in Anchorage to provide five over-the-air television signals to the Kenai Peninsula. KTUU Channel 2, KYES Channel 5 and their digital sub-channels Antenna TV, Heroes & Icons are now available. A fifth program line-up, Start TV, begins September 1st.
KTUU is NBC and Channel 2 News. KYES airs MyNetwork and syndicated programs. Antenna TV airs classic television shows like Bewitched and Johnny Carson. Heroes & Icons carries all five Star Trek shows in primetime and popular classics including House, Jag and Monk during the day. Start TV will feature dramas led by female characters like Touched by an Angel, Medium and The Closer.
Some television sets will find the new signals automatically; others will need to be rescanned. Information on rescanning is available on KTUU's website, www.ktuu.com.
Nancy Johnson, Vice President and General Manager for KTUU and KYES said, "We appreciate our viewers on the peninsula. Alaska's geography can make it difficult to provide an over-the-air signal to our entire coverage area, but we continue to make investments in equipment and are delighted to be able to now provide more programming options for our Kenai viewers."
Contacts:
Nancy Johnson, VP & General Manager
907.762.9202 | njohnson@ktuu.com
Victoria Taylor, Director of Marketing
907.762.9203 | vtaylor@ktuu.com
About Gray: Gray currently owns and/or operates television stations and leading digital properties in 93 television markets, including the number-one rated television station in 68 markets and the first or second highest rated television station in 87 markets. Gray's television stations cover approximately 24 percent of US television households and broadcast approximately 400 separate programming streams, including nearly 150 affiliates of the CBS/NBC/ABC/FOX networks. Gray also owns video program production, marketing, and digital businesses including Raycom Sports, Tupelo-Raycom, and RTM Studios, the producer of PowerNation programs and content. For further information, please visit www.gray.tv.