Former Alaska Senator Mark Begich on Governor's race: "I'm in"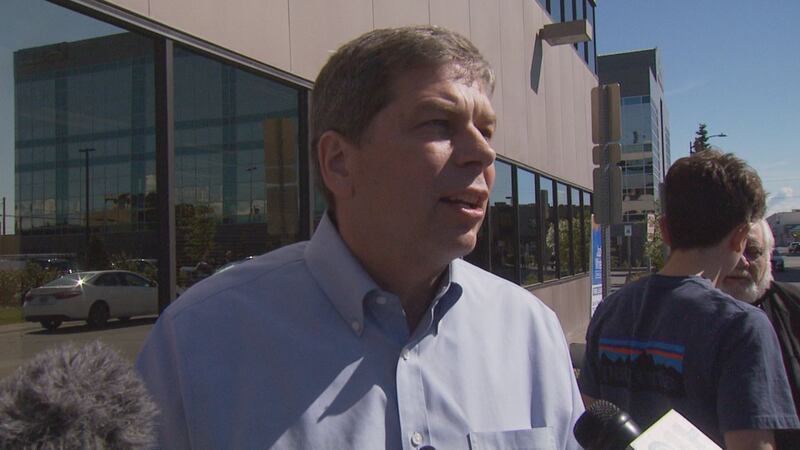 Published: Jun. 1, 2018 at 3:35 PM AKDT
Just before 4:30 p.m. Friday, former Sen. Mark Begich turned in the paperwork to formally become a candidate for Governor. In an impromptu press conference moments later, Begich explained his decision to run.
"I see huge opportunity but I don't see a vision. I don't see where we're heading in the next 20 years and I believe I can a fresh voice to the governor's race that I think is desperately needed," said Begich.
Mark Begich, former Senator for Alaska, announced to supporters in a letter that he is running for governor. The deadline to enter the race is June 1, 2018 at 5 p.m.
"Alaska is my home and I will not sit back and watch our state continue to fall behind," Begich says in the letter.
Citing the highest unemployment in rate in the country, the FBI labeling Alaska as the most dangerous state in the country, and years of out of control state spending, Begich writes "With challenges like these, I am deeply concerned about the dangerous vision from the leading Republican candidate. We can and we must do better."
Anticipating Begich's announcement, Governor Bill Walker announced today that he and Lt. Governor Byron Mallott will skip the Democratic primary, and instead run in the general election as independents to delay a direct confrontation with Begich.
Born and raised in Anchorage, Begich skipped college to focus on family business interests.
He got his political start on the Anchorage Assembly in 1988 at age 26. He served there for a decade and launched three failed attempts to seize the mayor's office before finally succeeding in 2003 against incumbent George Wuerch, going on to serve two terms.
In 2008, he successfully unseated the U.S. Senate's longest-serving, and third highest ranking republican, Senator Ted Stevens. But in 2014, the entrepreneur-turned politician was toppled by former Alaska Attorney General Dan Sullivan.
Begich is married to Deborah Bonito. They have one son, Jacob, who finished his sophomore year at West Anchorage High School this May.