Scientists say don't be fooled by a website that claims to predict earthquakes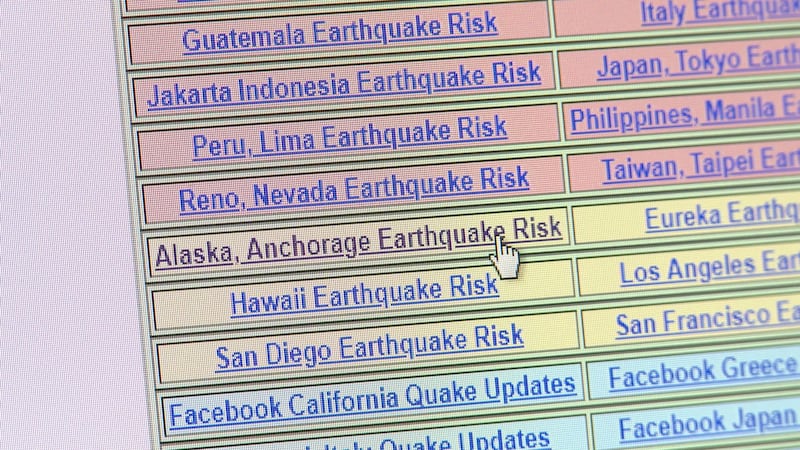 Published: Jan. 3, 2019 at 6:13 PM AKST
A link to a website floating around social media in the wake of recent earthquakes in Alaska claims to be able to predict when earthquakes will happen, but scientists and researchers say 'no way.'
Seismologist Natalia Ruppert from the University of Alaska Fairbanks Earthquake Center says anyone visiting the website should be skeptical.
"So far, nobody has been able to predict exact location, magnitude and timing of a significant earthquake in Alaska, so I take all of these websites and all these so-called 'predictions' very skeptically," Ruppert said.
The website's creator, Luke Holmquist of Austin, TX, is not a scientist, but he claims the predictions on his website are backed by his own 13 years of research. He admits that a majority — if not all — of the scientific world disagrees with him, but undeterred, he continues to make predictions on his site.
"Of course I want to help people," Holmquist told Channel 2 on Thursday. "If they get scared, they need to look at that 99 percent of people out there in the scientific community that disagree with me. If you want to feel comforted then listen to them. If you want to see the latest in earthquake forecasts, take it with a grain of salt or watch how accurate it is."
Back at the UAF Earthquake Center, Ruppert's stance is that this website and others like it should not be taken seriously. She says as of now, there is no reliable method to predict the exact location, time and magnitude of an earthquake. She says what is possible though, is a long term forecast in which scientists reconstruct the history of past significant earthquakes and extrapolate outward to make a very general prediction.
"For example, in Cascadia, the last significant earthquake was about 500 years ago, and looking at the past history of significant earthquakes in the Cascadia Subduction Zone, these earthquakes occur every 500 years or so," Ruppert said. "So right now you can say that they are getting maybe close in the earthquake cycle to the next significant earthquake in Cascadia Subduction Zone. "gain, nobody would be able to tell exact date and time and magnitude of this earthquake."
For now, what scientists can say for sure is that in the Anchorage area, there is still a very active sequence of aftershocks which have been felt by many over the past few weeks.
If you'd like to learn more reliable information about earthquakes in Alaska, you can visit the
.